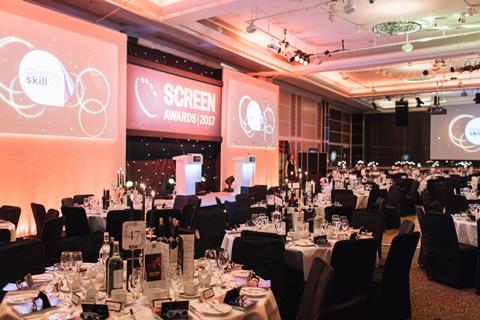 The 2018 Screen Awards are officially open for entries.
The awards, now in their ninth year, recognise excellence in UK film distribution, exhibition, marketing, publicity and brand partnerships.
This year's ceremony will take place on November 29.
The venue has changed for this year, with the awards moving to The Ballroom Southbank, situated near the London Eye and Festival Hall.
Entries are now open and the closing deadline is August 31. Click here to enter.
Last year's Screen Awards saw Altitude, Lionsgate and Curzon among the night's big winners.
Changes to Screen Awards categories this year include revising the demarcation line for number of cinemas at widest point of release: theatrical campaigns will now compete as films released in up to 199 sites, or at 200-plus. The specialised category encompassing theatrical campaigns for documentary and foreign language remains unchanged.
For the coveted Distributor of the Year category, companies this year will have the option of bolstering their entry for judges with a Q&A interview with the chief executive, to be conducted by a Screen journalist.
Premiere of the Year has been combined into a single category.
The full list of Screen Awards categories can be found here.