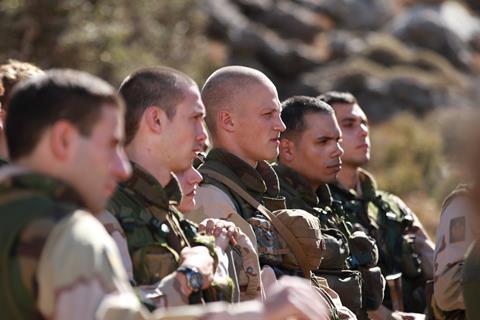 Screen International is hosting a series of online screenings, focused on - but not limited to - the international feature awards race.
This initiative is designed to enable each country to organise an event around their submission.
Among the first screenings in the programme are the Oscar entries for Luxembourg (Io Sto Bene), Ukraine (Bad Roads), Panama (Plaza Catedral), Netherlands (Do Not Hesitate) and Algeria (Heliopolis). More titles will be added during this year's awards season.
For the second year, Screen is partnering with Archipel Market, a film market platform powered by Cascade8, enabling industry professionals to interact and replicate film market activities online, all year round.
Find out more about the titles below:
Iran-Norway-Switzerland: Radiograph Of A Family (Firouzeh Khosrovani)
Radiograph of a Family, premiered at IDFA in 2020, winning the best feature-length documentary prize as well as the ReFrame Award for best creative use of archive. It is a story told by filmmaker Firouzeh Khosrovani as she grew up in the middle of her parents battles of religion and art. Her mother taking on more of an extremist Islamic role, and her father fully embracing the arts and music that were deemed not appropriate.
Screening date: November 29
Luxembourg: Io Sto Bene (Donato Rotunno)
An old Italian ex-pat crosses paths with a young artist from his home country, awakening memories from his past. It is a fourth feature for Luxembourgian filmmaker Rotunno, who has worked extensively as a producer with credits including Oliver Laxe's Fire Willl Come. Rotunno directed 2016 entry Baby(a)lone.
Screening date: December 1
Ukraine: Bad Roads (Nataliia Vorozhbyt)
Bad Roads had its world premiere in Critics' Week at Venice Film Festival in 2020, going on to play festivals in Hamburg, Thessaloniki, Vilnius and Brussels. Adapted from a Vorozhbyt's play of the same name that was staged at London's Royal Court in 2017, the film deals with Russia's annexation of the Crimean peninsula, through depicting a panorama of incidents.
Screening date: December 2
Panama: Plaza Catedral (Abner Benaim)
Panama's Oscar entry has already been beset by tragedy; the film's lead actor Fernando Xavier de Casta was killed earlier this year, aged just 15, in reported gang violence. In a haunting echo, Plaza Catedral centres on a woman who, while mourning the loss of her 13-year-old son in an accident, has her life turned upside down when teenager Chief (de Casta) asks her help after being shot in street conflict. de Casta and Ilse Salas won the best actor and actress awards at Guadalajara Film Festival, where the film debuted in October 2021.
Screening date: December 3
Netherlands: Do Not Hesitate (Shariff Korver)
Tribeca premiere Do Not Hesitate is the second feature from Venezuela-born director Shariff Korver, after his 2014 debut The Intruder, which premiered at Toronto. The story follows a Dutch military convoy working on a peacekeeping mission in the Middle East. The convoy is forced to split up when the main vehicle breaks down, leaving three young soldiers to guard the vehicle. They come across a young local boy who refuses to leave – but after a series of disastrous events, can they really trust him? The film is written by Jolein Laarman and produced by Erik Glijnis, Leontine Petit and Emily Morgan for Lemming Film. TrustNordisk is handling international sales.
Screening date: December 7
Algeria: Heliopolis (Djaâfar Gacem)
This feature has been selected for a second time to represent Algeria, after it was submitted but then withdrawn by the Algerian Oscar committee last year, reportedly owing to the Covid pandemic preventing it from screening. Chaired by filmmaker Mohamed Lakhdar Hamina, the committee selected the film from among three others. The feature takes place at the end of World War II in a small Algerian town as French troops embark upon an atrocious massacre, now known as the Sétif and Guelma massacre. It is the first feature to be directed by Gacem, who has previously made his name in TV. Hewes Pictures is handling worldwide sales, excluding Algeria and Israel.
Screening date: December 8
Hong Kong: Zero To Hero (Jimmy Wan)
The film tells the true story of Hong Kong athlete So Wa Wai, born with cerebral palsy, who won the first Paralympic gold medal for Hong Kong in 1996 and went on to win several other medals. It was produced by Sandra Ng, who also plays So's mother in the film, while two actors – Leung Chung Hang and Fung Ho Yeung – play So at different stages of his life. Hong Kong's One Cool Film Production is the main production company behind the film and is also handling international distribution. Wan previously co-directed three films with Derek Tsang: Lover's Discourse (2010), Devil Nail Clippers (2010) and Lacuna (2012).
Screening date: December 9