MARCH 17 UPDATE: M Night Shyamalan and Brett Ratner have added their voices against the proposed distribution model that continues to fuel controversy in the run-up to CinemaCon next month.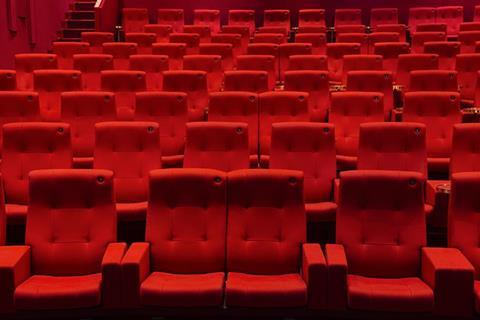 Shyamalan tweeted his objections on Thursday to the platform proposed by Napster co-founder Sean Parker and music industry executive Prem Akkaraju.
In one of several tweets, the director wrote: "Once filmmakers & theater owners open the door to this idea, there is no going back. The movie going experience is something to fight for!"

Earlier in the day Ratner made his stance clear when he told Deadline Hollywood: "I said it in 2011 [the Tower Heist premium VOD furore] and it's even more true now, I'm a firm believer in the importance of protecting the theatrical window. The home market is important too, but it must be in its proper sequence."
MARCH 16 EARLIER STORY: Breaking its silence, the National Association Of Theatre Owners (NATO) has weighed on the debate over the platform proposed by Napster co-founder Sean Parker and music industry executive Prem Akkaraju.
Christopher Nolan, James Cameron and Jon Landau have also spoken out.NATO issued a statement on Wednesday in which it said new release models "should be developed by distributors and exhibitors in company-to-company discussions, not by a third party."
Meanwhile Christopher Nolan added his voice to comments by Cameron's producing partner Landau, who spoke on behalf of himself and Cameron when he told reporters that Screening Room would be "disastrous for theatres."
The film-makers are famously pro-exhibition and have worked closely with theatres and Imax. Nolan's Batman trilogy and Interstellar and Cameron's Avatar have all prospered in theatres. Avatar ranks as the second biggest theatrical grosser in North America on $760.5m and the biggest release ever worldwide on $2.8bn.
The developments follow Tuesday's open letter of protest by Art House Convergence, in contrast to earlier messages of support by A-list directors such as Peter Jackson, Ron Howard and JJ Abrams.
The backers of Screening Room have not spoken publicly about their plan yet, however it has been reported that for $50 a customer will rent a 48-hour window to watch a film the day it opens in theatres via a $150 anti-piracy box.
Further, it is has been reported that exhibitors might get a $20 cut of each $50 transaction.
The NATO statement in full:
"Recently there have been various reports in the media regarding a proposed movie release model called "The Screening Room". Within a few days of the first report, several different high profile movie directors publicly stated their support for the model, some claiming that the model is good for motion picture exhibitors. Movie theater operators, however, will individually decide what business models work for movie theater operators.
"The owners and operators of movie theaters genuinely appreciate the vision and creativity brought to the big screen by motion picture directors. Nothing entertains movie fans better than a great movie exhibited in a modern movie cinema.
"The exclusive theatrical release window makes new movies events. Success there establishes brand value and bolsters revenue in downstream markets.
"NATO has consistently called on movie distributors and exhibitors to discuss as partners release models that can grow the business for everyone. More sophisticated window modeling may be needed for the growing success of a modern movie industry. Those models should be developed by distributors and exhibitors in company-to-company discussions, not by a third party."