The festival was forced to react to anger over the inclusion of Netflix titles, then the Manchester terror attack.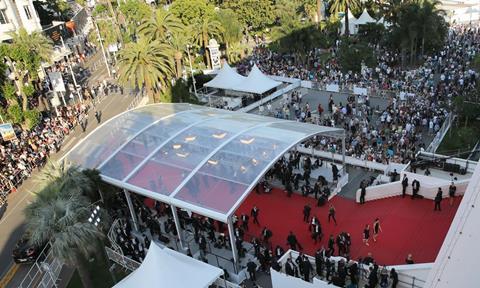 Monday's night's devastating attack in Manchester cast a pall over the final throes of a sluggish Cannes market and a festival selection that has lacked exuberance heading into its final stretch.
Flags flew at half-mast on Tuesday and there was a minute's silence out of respect to the victims of the atrocity.
Swift messages of condolences came from the festival and the local mayor while Pixar cancelled a Cars 3 media event.
Security was never far from the agenda in Cannes. Heavily armed police were a constant presence and Cannes' heightened state of alert kicked into action on Saturday when an ultimately harmless suspect package resulted in an evacuation of the Debussy during a press screening of Michel Hazanavicius' Redoubtable.
The sudden death, aged 57, of Busan deputy director Kim Ji-seok at the start of the festival shocked many, as did the passing yesterday of James Bond star Roger Moore.
Meanwhile, Netflix dominated the Croisette and column inches.
The streaming giant triggered an eligibility rule change from Cannes, sparked a clash between competition jury president Pedro Almodovar and fellow juror Will Smith, drew derisive whistles when the press screening of its first ever Competition entry Okja debuted in the wrong aspect ratio (the festival took responsibility), and was understood to be close to a worldwide acqisition on Bubbles in a deal reportedly worth $20m.
Deal avalanches were few and far between, but among other splashy contracts, STX boarded international sales on Ridley Scott's JP Getty kidnap project All The Money In The World, and IMR International sparked interest with its Silver Pictures action thriller Cash Truck. There was also heat on Michael Moore's upcoming Donald Trump documentary Fahrenheit 11/9 with the Weinsteins, and Nu Image's Hellboy reboot.
Sony acquired most international rights from Protagonist Pictures on Amma Asante's Second World War drama Where Hands Touch and Annapurna boarded Jacques Audiard's The Sisters Brothers as co-financier, co-producer and US distributor.
Besides Netlfix, The Orchard was the most active US distributor, riding the pre-buy wave with deals on Deniz Gamze Ergüven's Kings and Archie Borders' Under The Eiffel Tower, and snapping up US rights to Robin Campillo's well-sold competition drama BPM. Oscilloscope acquired US rights to Un Certain Regard entry Beauty And The Dogs.
Also selling well were Francois Ozon drama Amant Double and The Match Factory's Sicilian Ghost Story.
Chinese buyers were out in force, hungry for European fare, as evidenced by online platform Weying's move on Chinese rights to nine WIld Bunch films including Competition titles like Loveless and Redoubtable.
Among festival titles, Andrey Zvyagintsev's Loveless set a high early competition bar and Yorgos Lanthimos' The Killing Of A Sacred Deer proved polarising; Michael Haneke's Happy End underwhelmed, while Sean Baker's Directors' Fortnight selection The Florida Project drew widespread raves.