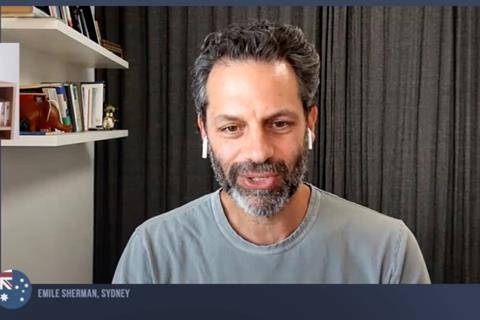 See Saw Films joint managing director Emile Sherman spoke about the challenges of producing during the Covid-19 pandemic and his experiences of expanding into television production, during his masterclass held as part of the Motion Picture Association (MPA) pitching competition, co-hosted with Digital Hollywood University (DHU) and TIFFCOM.
Speaking from Sydney, Sherman kicked off the session by explaining that he entered production when he realised that he had a knack for putting finance together, at the same time as appreciating the creative process and helping storytellers achieve their vision.
"I've always been more interested in working with great Australian storytellers and broadening the scope of what we can do in this country to films that may be set elsewhere – they don't need to only be about Australian characters," Sherman said. "The UK is also good at supporting UK filmmakers to tell stories wherever they may be."
He met Iain Canning, his partner in See Saw Films, when he was producing Candy and Canning was handling acquisitions at the UK's Renaissance Films. See Saw was launched in London and Sydney in 2008, at the same time as Australian distributor Transmission, headed by former Dendy execs Richard Payten and Andrew Mackie.
Sherman said he speaks to Canning on the other side of the world either "every day or every second day" and that "we have enough different skills and talents, and also crossover, that we need each other, but we're still able to get on and do what we need to do in our own time zones."
In the intervening 13 years, the company has produced films such as Lion, Shame, The King's Speech and Power Of The Dog, with Sherman working more closely with Australia-based directors Garth Davis and Jane Campion. The company expanded into television with Campion's Top Of The Lake, and has since produced series including Banished, The North Water and State Of the Union.
On working with directors, Sherman said he's lucky to have relationships with filmmakers that have lasted over several projects, and that every director is different in their working style, focus and personality. "At their best these can be extraordinary relationships, but you go through trying times, particularly in the edit room when things can get pointed. It all comes back to having a safe enough relationship that you can thrash out differences and really push each other.
He described Top Of The Lake (2013) as "ahead of its time" coming a few years before the boom in streaming and episodic content. After years of working on films, he found the role of a producer can be different in television.
"Whereas the producer is the key role in film, in television it really is the executive producer in the UK, more than the US, and Australia is following suit on that," Sherman explained. He added that in See Saw's early days, he and Canning did everything themselves, but hired in-house producers as their slate has grown, so work less as hands on producers and are inevitably more involved in running the company.
"In television, we're executive producers, accountable for making the show and making it good. We do whatever is necessary to ensure that happens, so we bring on really great physical producers, and showrunners are sometimes executive producers; you just do whatever is needed to make something great."
He defined a showrunner as "a writer overseeing producers across all aspects of production," but explained that you don't always need a showrunner, as the production company can also act as the executive producer.
"But there are times when it's great to have a writer who will step up to that role," Sherman added. "The culture of showrunning is something that will grow in Australia in the future, because of the interest of streamers and their direct relationships with writers. But there's not one model that is best for everything. You have to suit the interests and talents of the people with the show you're trying to deliver."
Sherman also talked about how See Saw Films survived during the pandemic – the company had to down tools on Power Of The Dog, which was halfway through its shoot in New Zealand, and delay the start of Slow Horses, a series for Apple TV+, shooting in the UK.
"It was bloody tough, super scary, not being able to bring in fresh revenue. We projected that in a reasonable worse case scenario we needed cash flow for one year to 15 months. We had to reduce wages for a short time but were able to pay the staff back with premium."
It was, however, a great time for development and Sherman was also involved in getting the Australian government to back an insurance fund to keep local independent production rolling: "Australia went from being one of the safest places to productions then just leaving, but it shows that you have to build the industry from the inside out.
"You can't just hope that exchange rates and pandemics will be favorable to local production," he added. "You have to build from the people on the ground who are committed to making Australian stories with Australian storytellers, and then everything else follows from there."
Sherman finished the masterclass with a healthy plug for his podcast, Principle Of Charity, in which speakers try to present the strongest version of the opposing side's argument, on topics such as climate change, meat eating and pornography, rather than just trying to win.
He described it as creating "a safe space" for discussion where people with different viewpoints can come together" "We don't want to move to a world that is so scared of hurting people's feelings that we use that as an excuse to not have the difficult conversations that are needed to keep a healthy democracy together."
And of course, as he mentioned earlier in the masterclass, the ability to have difficult conversations without hurting people is probably also one of the key skills of a film and TV producer.
Mayu Nakamura, Sachiko Miyase win top prizes at MPA pitching competition
Japanese filmmaker Mayu Nakamura was awarded with the MPA Grand Prize for her project The Male Me, The Female Me, And My Girlfriend at the conclusion of the MPA/DHU/TIFFCOM pitching competition.
The project tells the true story of the relationships and career struggles of a non-binary artist living in Japan. Nakamura has already made a short documentary about the subject of the film, which was viewed 360,000 times on Yahoo Japan.
Meanwhile, the special recognition prize went to Sachiko Miyase for Anna And Kobayashi Are Here, about a Filipina woman and her mixed race daughter who is trying to recover from the trauma of being raped by a stranger in her own home.
The MPA Grand Prize winner will be awarded with a five-day study trip to the MPA's Film Immersion Course in Los Angeles, scheduled for November 2022 to coincide with the American Film Market.
The Special Recognition Prize winner will be invited to the Asia Pacific Screen Awards, which will be held in Brisbane, Australia in November 2022. Alternative opportunities will be provided to both winners if the Covid-19 pandemic disrupts travel and the holding of events next year.