Pulp Fiction exec and BuzzFeed consultant hails digital opportunities for filmmakers.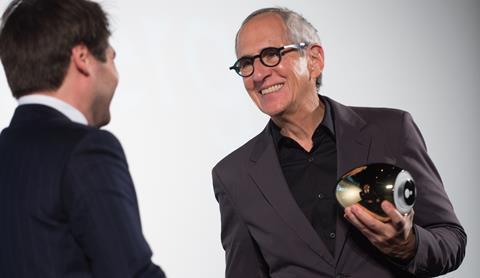 Acclaimed US producer Michael Shamberg has hailed the filmmaking opportunities afforded by digital platforms and new technology, during his Zurich Summit keynote today (Sept 27).
"There are enormous opportunities in this space," the Pulp Fiction executive producer told Screen ahead of his address.
"Digital is the medium of now and it will only grow. Within a year or two in the US there will be more money spent on digital advertising than on TV advertising – $80bn per year. As the revenue shifts for storytellers, more and more Hollywood industry will work in the digital space."
"Just as Quentin Tarantino wrote scripts while working in a video store and a young Steven Spielberg made films on Super 8 in his bedroom, future filmmakers will emerge from having made films that they post online," continued the Oscar-nominated producer whose credits include Get Shorty, Erin Brockovich, Out of Sight andDjango Unchained.
"Anybody with a laptop is their own movie studio. You can shoot very cheaply with an iphone or digital camera, edit at low cost and distribute at low cost. That's a pretty amazing revolution in media."
Shamberg, who joined viral content publisher Buzzfeed as a consultant to its new filmmaking division BuzzzFeed Motion Pictures, also discussed the company's filmmaking model.
"What we're interested at Buzzfeed Motion Pictures is experimenting with new forms of storytelling. Ze Frank [president BFMP] defines a motion picture as anything from a gif and a vine to a feature film. Storytelling is popping up in many different forms now."
"There is an enormous opportunity for people with storytelling skills to work online but digital is a whole different grammar. I've been exploring opportunities for those people in that space".
"Buzzfeed is already producing a ton of short form fictional content," he explained. "Fairly soon some of the better ideas will emerge and develop into a film or TV show. One of the great things about the Buzzfeed model is that there is space for cost-effective R and D, which there isn't a great deal of in Hollywood."
Shamberg, whose recent films A Walk Among The Tombstones and Wish I Was Here, both play at the festival, is in pre-production on Julianne Moore and Ellen Page feature drama Freeheld, and on AMC TV series Badlands, a martial-arts story about a great warrior and a young boy on a dangerous journey.
The indie veteran received a career achievement award at Zurich Film Festival last night (Sept 26).