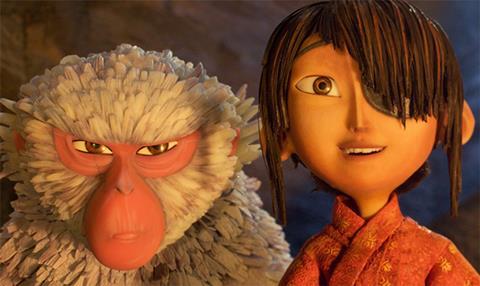 Shout! Factory has struck a distribution agreement with Laika on four of the animation studio's stop-motion titles giving it exclusive AVoD rights in the US and worldwide broadcast, digital EST and TVoD rights.
The features in question are the Oscar-nominated quartet of Kubo And The Two Strings (pictured), The Boxtrolls, ParaNorman and Coraline.
The deal was negotiated by Shout! Factory EVP of kids and family Melissa Boag and head of business development Michael Waghalter on behalf of Laika.
It comes after Laika recently celebrated its 15th anniversary and announced its latest stop-motion title, The Night Gardener which company CEO Travis Knight will direct. Knight is currently in production for Laika on Wildwood.
"With as much respect and admiration as we have for Laika and these four groundbreaking films, we're thrilled to now be partners in expanding their presence in the digital and broadcast spaces in addition to the work we're doing together in home entertainment," said Boag.
"Working with Shout! Factory on the special edition Blu-ray re-releases of our first four films has been such a rewarding experience," added Laika's chief marketing officer and SVP of operations David Burke. "Its top-flight team really understands what makes Laika unique in the world of cinema and is dedicated to increasing our impact across the globe."
Coraline was Laika's first release in 2009 and announced the Oregon-based company's arrival as a heavyweight animation talent, earning a best feature animation Oscar nomination. ParaNorman followed in 2012, before The Boxtrolls opens in 2014 and Kubo And The Two Strings was released in 2016.