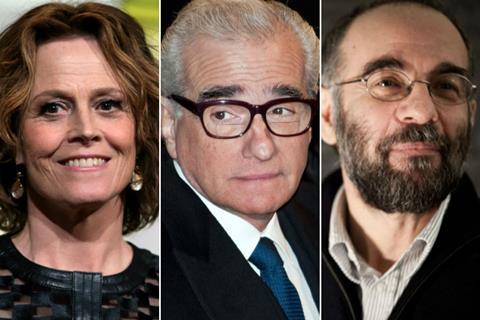 Sigourney Weaver, director Giuseppe Tornatore and French artist, filmmaker and Oscar-winning co-writer of Eternal Sunshine Of The Spotless Mind Pierre Bismuth, will participate in the 'Close Encounters' talks series of the Rome Film Festival to be held October 18 -28.
They join Martin Scorsese who will be at the festival for two days to receive its lifetime achievement award, as announced earlier this month. Scorsese will also take part in a Close Encounters event, said artistic director Antonio Munda who hosted a press conference to unveil the festival's early confirmations in Rome on Monday (June 25).
Weaver will be interviewed on stage by Monda, while Tornatore, whose credits include Cinema Paradiso, Malena and Baaria, will talk about the six noir films to have influenced him. The Close Encounter with Bismuth will be held at the MAXXI in collaboration with Videocittà.
At Scorsese's request, the director will receive his award from director Paolo Taviani. Scorsese will then talk onstage with Monda about the eight Italian films to have changed his life.
"I anticipate one of them will be Accattone by Pier Paolo Pasolini," said Monda. "Scorsese said he was struck by it when realized that it was the story of a drug dealer who is Jesus Christ."
On the second day, Scorsese will introduce a restored copy of an as-yet-unannounced classic Italian film and will give a masterclass at Rome's La Sapienza university. (In a non-festival event, the Italian-American director will also be received by the Pope).
Further participants in the Close Encounters series will be the award-winning Italian cinematographers Luca Bigazzi and Arnaldo Catinari and renowned film editors Giogiò Franchini and Esmeralda Calabria.
Monda also revealed he has secured a special screening of Paolo Virzì's Notti Magiche, a comedy drama set in Rome during Italia '90 World Cup. It stars Ornella Muti and Giancarlo Giannini.
There will also be retrospectives of the work of the late UK comedy genius Peter Sellers and French director Maurice Pialat, who won the Palme d'Or for Under The Sun Of Satan in 1987, and a restored version of Giuseppe De Santis' Italiani Brava Gente will be screened.
The full line-up of the 13th Rome Film Festival will be announced on October 5th. Rome falls at a busy time of year for film festivals, overlapping slightly with Film Fest Gent (Oct 9-19), and London (Oct 10-21), as well as with Tokyo (Oct 25- Nov 3).