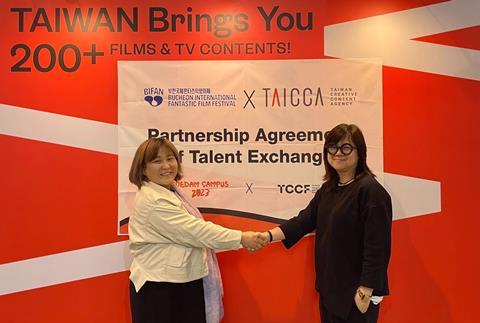 The Taiwan Creative Content Agency (TAICCA) and South Korea's Bucheon International Fantastic Film Festival (Bifan) have signed a partnership to foster increased industry collaboration between the two countries.
Bifan programme director Ellen Y. D. Kim and TAICCA director of international business at Zoe Wang were at Filmart yesterday (March 13) to represent their respective organisations when the agreement was signed at the Taiwan pavilion in the Hong Kong Convention and Exhibition Centre.
They jointly announced a residency programme that aims to help local professionals expand their international networks and promote more opportunities for cross-border cooperation.
Selected content creators will take part in a one-month residency in Bucheon, after which they will showcase their projects at the Goedam Campus Pitching event at Bifan, where the best will be awarded cash prizes that total around $15,000.
TAICCA will also invite one project to pitch at Taiwan Creative Content Fest (TCCF), a content marketplace in Taiwan for international professionals to promote creative content, connecting projects and proposals with buyers and investors. This will qualify for Taiwan's International Co-funding Program (TICP), which covers up to 30% of the production costs, up to $300,000, for international projects with Taiwanese elements.