Sony's sequel retains top spot for third straight week with $3.4m (£1.98m); Universal's Bad Neighbours previews strongly; eOne's Pompeii is the week's highest new entry.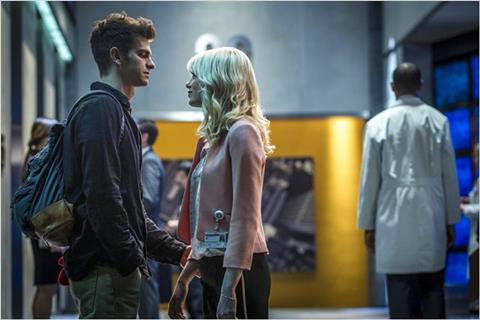 Holding better than its predecessor, The Amazing Spider-Man 2 remained top of the UK box office for the third consecutive week.
Sony's superhero sequel added $3.4m (£1.98m) and has so far caught $34.7m (£20.5m) in its web, following a Bank Holiday Monday [May 5] of $1.2m (£687,000). The Amazing Spider-Man stood at $37.7m (£22.3m) at the same stage in its run on its way to $44.1m (£26m).
The sequel has a chance to close the gap over this coming week (with Sabotage the only main arrival), but is unlikely to make it four weeks at the top as a result of Bad Neighbours.
UNIVERSAL
Having opened on Saturday [May 3], Universal's Bad Neighbours has already banked $6m (£3.53m) in the UK. It won't be counted in the official chart until next week (May 9-11) but it's worth noting that if it is was counted in this week's, its Sat-Sun tally of $4.3m (£2.51m) would have seen it top the chart.
FOX
With a minimal drop (excluding previews) in its second weekend, The Other Woman grossed $2.45m (£1.45m) at a healthy $5,266 (£3,107) to stay second.
Fox's comedy is now up to $9.6m (£5.7m) in the UK as of Monday and will shortly overtake My Sister's Keeper's $10.7m (£6.3m) result to become director Nick Cassavetes' best-ever UK performer.
Also for Fox, Rio 2 flew to a further $781,000 (£460,621) for $21.5m (£12.7m) to date and can still surpass Rio's $23m (£13.56m) in the UK.
The Grand Budapest Hotel and Mr. Peabody & Sherman stand at $18.2m (£10.8m) and $22.8m (£13.4m), respectively.
EONE
The week's highest new entry came in the form of eOne's Pompeii which took $1.5m (£875,770) over Fri-Sun from its 426 sites.
In terms of director Paul W.S. Anderson's UK openings (discounting the Resident Evil sequels), that's up on Death Race's $1.2m (£683,038) from 371 sites, but down on The Three Musketeers' $2.5m (£1.5m) from 487 sites.
Including its previews [April 30-May 1] and Monday, Pompeii has taken $2.4m (£1.4m) in the UK so far.
Also for eOne, Tarzan swung into action with $895,000 (£528,233) over Fri-Sun from its 452 sites and $1.9m (£1.1m) to date, including its previews [April 26-27] and Monday. That's a debut up on director Reinhard Klooss' Animals United, which started its UK run with $521,000 (£307,409) from 345 sites.
Calvary added $344,000 (£202,911) for $4.2m (£2.5m) to date; The Love Punch stands at $3.3m (£2m) following a $247,000 (£145,849) third weekend; Divergent has amassed $11m (£6.5m) after five weeks in play.
Tracks journeyed to $121,000 (£71,193) in its second weekend for $467,000 (£275,297) to date, while The Raid 2 has passed the £1m mark and has fought its way to $1.8m (£1.05m).
DISNEY
Marvel Studios' latest outing Captain America: The Winter Soldier added $607,000 (£357,448) and has now grossed $31.6m (£18.6m) through Disney on its quest to top Thor: The Dark World's $34.1m (£20.1m).
Also for Disney, Muppets Most Wanted and Frozen stand at $12m (£7.04m) and $67.6m (£39.8m).
PARAMOUNT
Edging closer to £10m, Paramount's Noah floated to a further $393,000 (£232,000) over Fri-Sun and stands at $16.2m (£9.6m) as of Monday.
Also for Paramount, Plastic recorded a soft $263,000 (£155,000) debut from its 243 sites, including $92,000 (£54,000) in previews. However, that does mark director Julian Gilbey's best-ever UK debut, topping A Lonely Place to Die's $189,000 (£111,277) opening from 222 sites.
ENTERTAINMENT
Wally Pfister's directorial debut Transcendence took $389,000 (£229,178) in its second weekend of release for $3m (£1.8m) to date through Entertainment.
WARNER BROS
Released in 254 sites through Warner Bros, action remake Brick Mansions could only manage a debut of $232,000 (£137,000).
That's only narrowly ahead of District 13's UK bow of $167,000 (£98,747) from significantly less sites at 71. Including Monday, Brick Mansions stands at $283,000 (£167,000).
LIONSGATE
In its third weekend of release, Locke drove to a further $100,000 (£59,125) from its 97 sites through Lionsgate and has amassed $1.3m (£742,893) as of Monday.
ARTIFICIAL EYE
With a minimal drop in its fourth weekend, The Lunchbox added $53,000 (£31,395) for $653,000 (£384,971) to date through Artificial Eye, while Exhibition stands at $70,000 (£41,208) after two weeks in play.
Also for Artificial Eye, In Bloom posted a UK debut of $4,900 (£2,893) from its six sites.
ARROW FILMS
From its 22 sites on a mix of full shows, splits and matinees only, Arrow Films' A Thousand Times Good Night recorded a UK bow of $35,000 (£20,713), rising to $44,000 (£25,794) as of yesterday.
SODA PICTURES
Over Fri-Mon, 2013 Cannes Camera d'Or winner Ilo Ilo grossed $18,800 (£11,069) from its ten sites through Soda Pictures.
UPCOMING RELEASES
This week sees a saturation release for Lionsgate's Sabotage (opens May 7), while Curzon Film World's Frank and StudioCanal's The Wind Rises (original language and dubbed) both receive wide releases.
Kaleidoscope's I Declare War, Metrodome's Before the Winter Chill and Icon's Next Goal Wins are among the films receiving a limited release.