SEPT 12 UPDATE: Warner Bros' The Age Of Shadows opens with huge $16.1m in South Korea.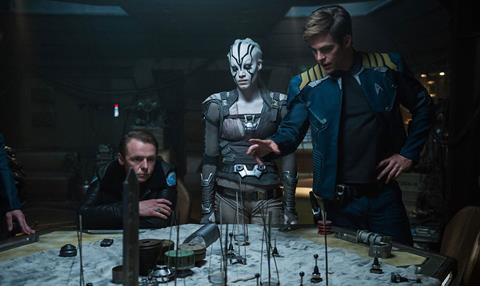 PARAMOUNT PICTURES INTERNATIONAL
Boosted by a $1.5m chart-topping debut in Mexico, Star Trek Beyond phased to an extra $16.6m from its 40 markets for $161.5m.
The majority of its weekend haul came from an $11.3m second session in China as it retained the top spot and reached $53.3m, while it added $1m in Brazil for a local tally of $3.6m and opened in Panama with a chart-topping $530k from 100 sites.
Its final release comes in Japan on Oct 21.
Ben-Hur journeyed to $8.3m from its 54 markets for $40.2m to date, led by a number one bow of $2.3m in Russia.
Paramount-MGM's remake also opened in the UK with a five-day debut of $1.5m from its 510 sites and landed top spot in France with a $1.2m opening from 427 sites. It opens in South Korea next weekend.
SOUTH KOREA
UPDATE: Venice title The Age Of Shadows, selected as South Korea's Oscar submission, stormed to a huge $16.1m bow from its 1,444 screens in South Korea.
The film is Warner Bros Korea's first Korean-language production, in association with Harbin Films.
UNIVERSAL PICTURES INTERNATIONAL
UPDATE: Led by a chart-topping $5.6m in Australia, The Secret Life Of Pets hopped to a further $15.9m from its 60 territories for $428m to date.
Illumination Entertainment and Universal Pictures' animation also opened in Malaysia with $646k, while it retained the top spot for the third straight week in Brazil with $2.3m for a local tally of $13.8m.
It has four more territories to release, starting with New Zealand next weekend.
Jason Bourne shot to $4.6m from its 56 territories for $231.8m overseas. With no new openings, China led the way with a $1.1m third weekend for a 20-day total of $65.7m. Japan will be the final release on Oct 7.
Opening in eight new markets, Laika's Kubo And The Two Strings grossed $2.3m from its 32 territories for an early $8.4m.
The UK was the top new opener with $1.1m from 515 sites, followed by Singapore's $203k bow from 29 sites which marked Laika's best-ever opening weekend in the market. It opens in Chile and Paraguay next weekend.
The Purge: Election Year and Central Intelligence stand at $31.3m and $87.8m, respectively.
Next weekend, Bridget Jones's Baby is welcomed into 41 territories, including the UK, Australia, Mexico, Spain and Russia, day-and-date with its North American release.
WARNER BROS PICTURES INTERNATIONAL
UPDATE: Landing in Japan with $3.6m, Suicide Squad sliced to a further $10.5m from its 62 territories for $392.6m to date. The DC Entertainment adaptation's leading overseas market remains the UK on $43.3m.
Sully posted a $10.5m international bow from its 39 markets, including the key markets of Australia and Russia.
Australia provided a preview-boosted $2.4m from its 363 screens to chart second and exceeding all Clint Eastwood films, apart from American Sniper, while it recorded Eastwood's biggest opening weekend in Russia with $1m from 882 screens
It topped the chart in the UAE with $1m from 61 screens and from its 148 IMAX screens overseas, Sully grossed $1.1m for a global weekend of $5.1m which marks a new IMAX global record for a September 2D release.
Opening in Spain with $580k from 280 screens, War Dogs added $2.4m from its 52 territories for $26.2m, ahead of its release in France next weekend and Germany on Sept 29.
Lights Out has now grossed $75.1m overseas, while Me Before You retained the top spot in Italy with $1.5m for $5.4m locally and $147.3m overseas.
SONY PICTURES RELEASING INTERNATIONAL
The Shallows bit into an estimated $9.6m from its 56 territories for $55.1m to date, with the majority of its weekend coming from an $8.1m debut in China to chart second.
Creeping into 16 new markets, Don't Breathe scared up $9m from its 30 markets for an early $20.3m, ahead of its release in Mexico next weekend.
The horror enjoyed excellent results across Latin America, including number one bows in Argentina ($465k) and Central America ($295k). The UK provided the biggest opening with $1.3m, followed by $1.2m debuts in Brazil and Germany.
Sausage Party romped to an additional $4.2m from its 25 markets for $20.4m so far. The adult animation retained the top spot in the UK with $1.6m for $7m, and debuted with $1.3m from 886 screens in Russia to chart second.
EUROPACORP
Currently playing in 26 territories, Nine Lives pounced on an estimated $9m for $16m to date, according to ComScore. It opened in China this weekend.
LIONSGATE INTERNATIONAL
UPDATE: Nerve raced to $5.1m from its 58 markets to lift its international tally to $23.6m.
The social media thriller posted a strong chart-topping $1.6m opening in Germany ahead of fellow new release Don't Breathe, and also debuted with $168k in Austria to chart second. It opens in Russia next weekend.
FOX INTERNATIONAL
UPDATE: Ice Age: Collision Course rolled to $4.3m from its 42 markets for $334.7m so far. It enjoyed $2.5m third weekend in China for $63.7m, making it the leading overseas market for the film.
Opening in Singapore ($130k) and Taiwan ($132k), Mike And Dave Need Wedding Dates partied to $1.8m from its 27 markets for $28m, with releases in the Philippines, Italy and Spain to come.
Independence Day: Resurgence landed in its final market of Italy with a $1.3m bow from its 569 screens. Overseas, the sequel now stands at $283.2m.
Morgan has grossed $2.4m from its 28 markets after two weekends in play, ahead of its release in Colombia, Singapore and Spain next weekend.
STX ENTERTAINMENT
Bad Moms has crossed the $150m mark at the global box office to stand at $151.9m.
Overseas, the comedy took an estimated $3.7m from its 53 markets for $44.4m, with the UK leading with the way with a $1.25m third weekend (a drop of only 19%) for $7.64m to date.
WALT DISNEY STUDIOS MOTION PICTURES INTERNATIONAL
With no new openings, Finding Dory swum to an extra $3.3m from its 16 territories for $467m to date overseas and a worldwide haul of $950.6m. It opens in Italy next weekend.
Pete's Dragon flew into the Philippines with a $400k debut on its way to a $2.2m weekend from its 29 territories for $32.2m. It lands in Australia and Mexico, among others, next weekend.
Contents Panda (NEW)
Train To Busan has now travelled to $97.2m overseas following an estimated $3.28m weekend from its seven territories, according to ComScore.