SEPT 5 UPDATE: Universal's The Secret Life Of Pets crosses $400m overseas and $750m worldwide.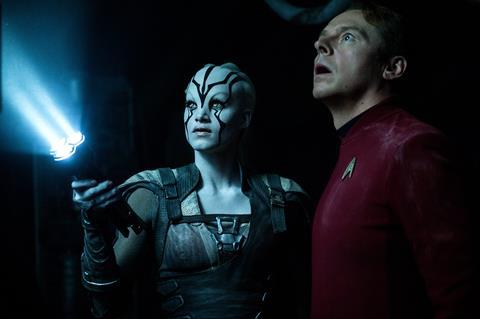 PARAMOUNT PICTURES INTERNATIONAL
UPDATE: Powered by a strong $30.7m bow in China, Star Trek Beyond phased to $36.4m from its 40 markets for $130.5m to date.
The Chinese debut was 105% above that of Into Darkness based on Fri-Sun, while the sci-fi sequel also opened in Brazil with $1.6m from 479 sites and in Venezuela with $1.4m from 70 sites.
Holdover-wise, France delivered $581k for $4.9m after three weeks in play and South Korea added $468k for $8.9m. It opens in Argentina and Mexico next weekend.
Ben-Hur fought to a further $5m from its 46 markets for an early $29.4m, after opening top in Spain with $1.1m from 338 sites.
Paramount-MGM's remake posted a $710k third weekend in Brazil for $5.5m and a $628k third weekend in Mexico for $6m. It arrives in France, Russia and the UK next weekend.
Teenage Mutant Ninja Turtles: Out Of The Shadows now stands at $162.4m.
UNIVERSAL PICTURES INTERNATIONAL
UPDATE: The Secret Life Of Pets has crossed $400m at the international box office and $750m globally today [Sept 4].
Overseas, Illumination Entertainment and Universal Pictures' animation added $19.3m from its 52 territories for $407.1m. It opened in Singapore with a chart-topping $1.3m and retained the top spot in Russia with $3.1m for $30.4m after three weeks in play.
It has six more territories to release, starting with Australia and Malaysia next weekend.
As expected, Jason Bourne is now the highest grossing outing of the series overseas as a $11.8m weekend from its 62 territories lifted it to $224m.
The action sequel opened in the likes of Russia ($2.2m) and Italy ($1.1m), while its second weekend in China saw it shoot to $3.5m for $63.4m. It opens in its final territory of Japan on Oct 7.
Ahead of its UK release (among others) next weekend, Laika's Kubo And The Two Strings grossed an extra $1.8m from its 24 territories for an early $5.7m. Spain is currently the top holdover with $256k for a ten-day tally of $1.1m.
The Purge: Election Year and Central Intelligence stand at $30.1m and $87m, respectively.
WARNER BROS PICTURES INTERNATIONAL
UPDATE: Currently playing in 64 territories, DC Entertainment adaptation Suicide Squad generated a further $12.9m for $378.1m so far, ahead of its release in Japan next weekend.
New Line's Lights Out scared up $5.6m from its 53 territories for $70.9m to date. In its second weekend in South Korea and France, it added $2.1m for $7.2m and $892k for $3.1m, respectively.
Holding well in the UK as it dropped only 30%, War Dogs travelled to $3.7m from its 49 territories for $22.6m overseas after three weeks in play. It opens in Spain next weekend.
Me Before You posted a terrific chart-topping $2.5m debut, including previews, in Italy from its 413 screens. The total international haul so far is $144.4m.
FOX INTERNATIONAL
UPDATE: With a $6.4m second weekend in China, Ice Age: Collision Course rolled to $9.3m from its 55 markets for $327.7m so far. In China, it has now grossed $59.5m and it has reached $7.1m in Italy after two weeks in play.
Mike And Dave Need Wedding Dates found $3.3m from its 29 markets for $25m so far. It charted second in Germany with a preview-boosted $1.4m and topped the box office in Mexico with a $1m bow.
Fox Star's Akira opened with $3.5m from its two markets with the majority coming from its chart-topping debut in India, while Morgan disappointed with $1.1m from its 25 markets on its international bow.
Absolutely Fabulous: The Movie has amassed $30.9m ahead of its release in Germany next weekend.
WALT DISNEY STUDIOS MOTION PICTURES INTERNATIONAL
Swimming into Greece and Turkey, Finding Dory took an additional $6.3m from its 20 territories for $461.4m to date overseas and $943.2m globally.
Pixar's latest took the top spot in its two new markets, as well as dropping only 3% in its sixth weekend of release in the UK for $51m so far. Japan remains its leading international market, adding $700k for a local tally of $64.2m.
Pete's Dragon flew to $3.3m from its 26 territories for $28.2m overseas, following openings in Malaysia, Singapore, Uruguay and Paraguay. The UK is its leading market with $5.6m.
In its final market of Japan, The Jungle Book swung to an $800k fourth weekend for $21.2m. The live-action remake stands at $599.9m overseas and $963.7m worldwide.
SONY PICTURES RELEASING INTERNATIONAL
Don't Breathe creeped to a further estimated $5.3m from 14 markets for an early $8.6m.
The horror opened top in Australia with a preview-boosted $1m from its 176 screens, and was the top Hollywood film in India with a $685k bow, including previews, from its 363 screens.
Its leading holdover came in Russia where it dropped 44% with a $520k second weekend for $2m. Don't Breathe lands in Brazil, Germany, Italy and the UK next weekend.
Led by a chart-topping $3.6m debut in the UK, Sausage Party bit into another $4.6m from its 17 markets for $14m to date. In Australia, the animation dropped 39% on its way to a $580k fourth weekend for $6.2m. It opens in Russia next weekend.
The Shallows stands at $44.2m ahead of its release in China next weekend.
STX ENTERTAINMENT
UPDATE: Opening in four new markets, Bad Moms partied to $5,3m from its 50 markets for $38m overseas and $141.8m globally.
The R-rated comedy fell only 4% (excluding previews) on its way to a $1.54m second weekend in the UK for $5.23m, while it retained top spot in Australia with a $991k fourth weekend for $9.64m to date.
LIONSGATE INTERNATIONAL
Nerve raced to an estimated $4.3m from its 50 markets for $16.3m to date, following openings in Australia ($738k from 182 sites) and Mexico ($461k from 481). It opens in Germany next weekend.
Opening in its final market of Japan with $1.9m, Now You See Me 2 conjured up another $3.6m from its 47 markets for $263.6m. China is its leading market by some distance with $97.1m.