Late Show host takes on first major award show; immediately makes Donald Trump joke.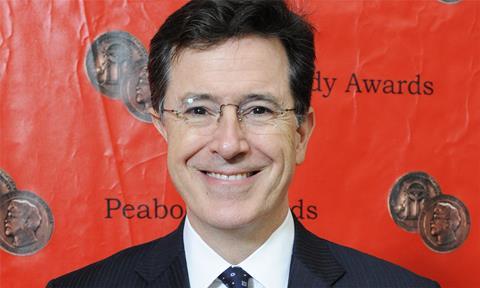 Comedian Stephen Colbert will host the 69th Emmy Awards, which take place on September 17.
It's the first major awards show hosting job for Colbert, whose The Late Show With Stephen Colbert runs on CBS, which is also broadcasting the Emmys this year.
After the news was announced, Colbert made a joke about Donald Trump's recent clashes with the press about the size of his inauguration crowd.
Colbert said: "This will be the largest audience to witness an Emmys, period. Both in person and around the globe."
Last year Jimmy Kimmel hosted the event when it was on ABC, keeping up the recent tradition of networks picking their own late night stars to helm the show. The Emmys rotate between ABC, CBS, Fox, and NBC.
Nominations for the 2017 Emmys will be announced on July 2013.
Jack Sussman, executive vice president, specials, music and live events, CBS Entertainment, said: "We're excited to kick off the new season and celebrate the top achievements in television with Stephen Colbert as host of the Primetime Emmys.
"Stephen is the ultimate master of ceremonies with award-winning creative talents, and as we've seen the past few months, he has a fearless passion for live television. We look forward to honoring television's best while entertaining audiences with the creative energy and sharp comedy of Stephen Colbert."