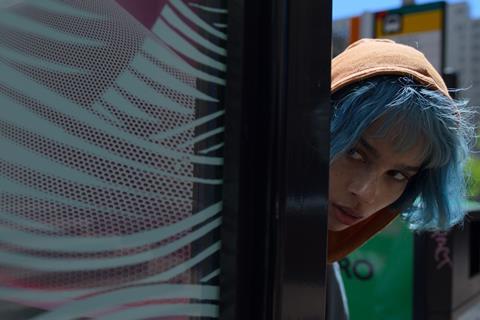 Steven Soderbergh's thriller Kimi from New Line and HBO Max starring Zoë Kravitz will stream exclusively on HBO Max starting on February 10, 2022.
The story of an agoraphobic Seattle tech worker who uncovers evidence of a crime also stars Byron Bowers, Jaime Camil, Erika Christensen, Derek DelGaudio, Robin Givens, Charles Halford, Devin Retray, Jacob Vargas and Rita Wilson.
Soderbergh directed from a screenplay by David Koepp. Frequent Soderbergh collaborators Michael Polaire and Koepp produced the thriller. The director's most recent film for HBO Max was crime drama No Sudden Move and he is currently in pre-production on Magic Mike's Last Dance with Channing Tatum.
Warner Bros also announced on Thursday (December 16) a number of schedule changes. James Wan-produced The Last Train To New York is set for April 21 2023; Angel Manuel Soto's () Blue Beetle August 18 2023; and Toto from a screenplay by John August February 2 2024.
Turning to Warner Bros' HBO Max release schedule: Megan Park's high school drama The Fallout with Jenna Ortega, Maddie Ziegler and Shailene Woodley will debut on January 27 2022; and rom-com Moonshot directed by Christopher Winterbauer and starring Cole Sprouse and Lana Condor is set for March 24 2022.