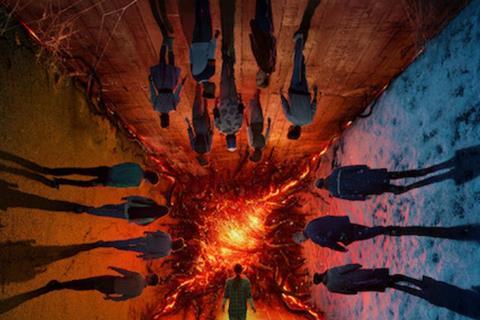 Streaming viewership in the US overtook cable TV in July for the first time, according to data from Nielsen's monthly report, The Gauge.
Streaming claimed a 34.8% share of viewership last month, compared to 34.4% for cable TV. That marked a climb of 3.2% for streaming and a 1.1 percentage point gain in share against June, while cable TV share fell nearly 2% and dropped 0.7 of a point.
Year-on-year streaming gained 22.6% against 28.3% in July 2021 and increased by 6.5 points. Cable TV fell 8.9% year-on-year from 37.7% share, a drop of 3.3 percentage points.
Sports viewing posted the biggest decline for the cable TV, dropping 15.4% from June and 34% from the year-ago period when the 2020 Summer Olympics began.
Nielsen said that while total time spent watching TV in July closely was similar to that of June and July 2021, the change viewing format share indicated the shift in viewership behaviour.
Viewers watched an average of 191bn minutes per week streaming in July, when each of the five measurement weeks in the month accounted for five of the six highest-volume streaming weeks on record according to Nielsen.
Netflix claimed 8% share among the streaming platforms powered by Season 4 of Strangers Things, which accounted for nearly 18bn viewing minutes in July.
Netflix, YouTube and Prime Video all registered record high shares after previously doing so in June. YouTube took 7.3% share, hulu 3.6%, Prime Video 3%, Disney+ 1.8% and HBO Max 1%. Other streaming platforms combined for the lion's share on 10.2%.
Broadcast accounted for the third highest share on 21.6%, marking a month-to-month fall of 3.7% and 0.8 of a point in share and an 9.8% year-on-year drop from 23.8% share in July 2021, and a 2.2 point decline in viewership share. Nielsen noted the month-on-month decline was due to a typical lull in new content until the upcoming broadcast season begins next month.
Since February streaming viewership share has climbed by an average of 1.2 points a month. Cable TV share has declined over the same period by less than 0.1%, and broadcast's has dropped by an average of half a point.