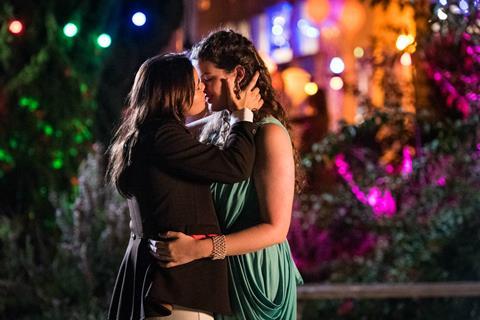 Frameline is supporting an Australian film and three Sundance selections through the LGBTQ+ non-profit's Frameline Completion Fund.
Lesbian coming-of-age rom-com Ellie & Abbie (& Ellie's Dead Aunt) joins six others including recent Park City world premieres La Leyenda Negra, Buck, and Disclosure: Trans Lives On Screen.
The selections will share a $30,000 pool, which Frameline increased from $25,000 this year to mark its 30th anniversary.
Monica Zanetti directed Ellie & Abbie (& Ellie's Dead Aunt), about a teenage school captain who falls for a girl in her class and receives advice from her deceased lesbian aunt with words of wisdom from the 1980s.
The other grantees are Ahead Of The Curve, My Mom And My Little Secret, and Were You Gay In High School? The seven grantees were chosen from 173 submissions that included features and shorts in documentary, narrative, and episodic.
"This year's grantees are a perfect mix of the challenges and joys LGBTQ+ people face today," said Frameline director of programming Paul Struthers. "From transgender representation in film and TV in Disclosure: Trans Lives On Screen, to the struggles of immigrants in the United States today in La Leyenda Negra, to fun times in Australia's first lesbian coming-of-age rom com in Ellie & Abbie (& Ellie's Dead Aunt)."
Since 1990, Frameline has awarded $570,000 to 163 film projects by and about the LGBTQ+ community.
"We are thrilled with this year's outstanding slate of grantees, all of which will make their Bay Area premieres at Frameline," said Frameline's new executive director James Woolley. "To celebrate 30 years of the Completion Fund, we increased the fund from $25,000 to $30,000 to continue Frameline's dedication to connecting filmmakers and audiences in San Francisco and across the globe."
The independent jury selecting this year's grantees included Mill Valley Film Festival World Cinema programmer and Festival Mix Brazil director of programming João Federici; filmmaker and executive director of the Roxie Theater, Lex Sloan; and Stefano Gonzalez, film producer (Transfinite) and founder and CEO of Transgress Studios.