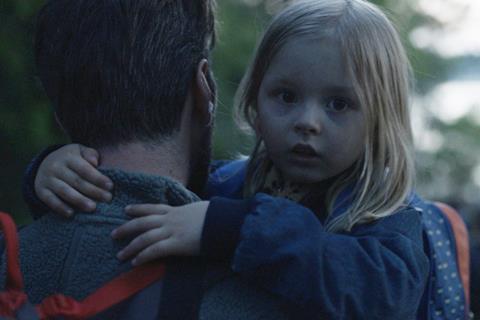 Swedish director Jesper Ganslandt's Jimmie has won the $59,000 (€50,000) Eurimages Lab Project Award at Haugesund's New Nordic Films market.
This award, given at Haugesund for the second year, considered eight of the more "cutting edge" films presented in the market's Works In Progress, considered by an industry jury.
The jury said it "was impressed by the footage proposed and the approach of the director to this original story. A child point of view on a journey to live seems for this jury relevant and topical. This story screams to be told."
Jimmie, produced by Jesper Kurlandsky, Hedvig Lundgren and Juan Libossart for Fasad in Sweden, is about a four-year-old boy and his father who are forced to leave Sweden for a safer land. The film is told through the young boy's perspective and DoP Mans Mansson even built a special camera rig to work best as the boy's height.
The film is fully financed by the Swedish FIlm Institute's Moving Sweden initiative.
Jimmie was previously pitched as a work in progress at Goteborg in January 2017 (the two Scandi markets rarely overlap with their works in progress), but new footage was shown in Haugesund. Ganslandt is also in post on his first English-language film, Beast of Burden, starring Daniel Radcliffe.
Special mention for the Eurimages prize where given to the films Alma and The Second Sex.
Among the other works in progress, international industry attendees were especially impressed by presentations for family story Wild Witch (sold by TrustNordisk), Icelandic drug smuggling drama Mikhel (sold by LevelK), and as well as the more artsy Norwegian father-daughter story Harajuku (no sales company attached yet).
Full details of Haugesund Works In Progress presentations:
Alma, dir Kristín Jóhannedóttir, prods Gudrun Edda Thorhannesdottir, Anna G. Magnusdottir, Ilann Girard, Jim Stark, Lilja Ósk Snorradóttir, Elfar Adalsteins (Ice/Swe/Fr/US)
Jóhannedóttir was in Cannes 1992 with As In Heaven, she returns to filmmaking with the story of a woman who is in a forensic psychiatric unit for the murder of her boyfriend; she finds out he is alive. The cast is led by Snæfriður Ingvarsdóttir and also includes French actress Emmanuelle Riva in her last film role. Producer Thorhannesdottir said the director had been "inspired by a book of poems written by a woman who killed her husband. The director really felt when she read the poems, she had found a broken individual." Alma will shoot two more days this winter.
Christian IV, dir Kasper Skovsbol, prod Claudia Saginario (Den)
Skovsbøl's feature debut is about Danish King Christian IV's tempestuous relationship with his second wife. ""Even though he was the most powerful man in the kingdom he couldn't force her to love him," Skovsbol said.
It depicts the last hours in the life of the king in 1648, told from the horse carriage that transported him on his deathbed.
Ego Ego, dir Zora Rux, prods Fred Burle, Leonie Minor, Roxana Richters (Ger)
Described as "a surrealist film about finding your true self," about a late 20s couple who see people they think about come physically into the same room. Burle said, "It's a lot about our generation which have a lot of choice in life but we aren't able to take decisions."
The Guardian Angel, dir Arto Halonen, prods Arto Halonen, Timo T. Lahtinen, Igor A. Nola (Fin-Den-Croa)
An English-language psychological thriller, based on the true story of a man who used hypnosis to turn another man in to a robber and murderer in post-war Copenhagen. Halonen, who has wanted to tell this story for 20 years, said, "It's the most incredible hypnosis crime story that has ever happened and has been confirmed to be true." Pilou Asbæk, Josh Lucas and Rade Serbedzija lead the cast. AMBI has sales rights and Scanbox has Scandinavian rights.
Harajuku, dir Eirik Svensson, prods Cornelia Boysen, Synnøve Hørsdal (Nor)
A 15-year-old girl tries to leave Oslo to go to Toyko instead of connecting with her biological father after her mother is in an accident. Svensson said the film "is a very emotional project, it's about what defines us as human beings. How we grow up, who is there for us when we grow up?" The film's shoot included 15 days in Oslo Central Station.
History of Love, dir Sonja Prosenc, prods Rok Sečen, Sonja Prosenc, Jarle Bjørknes, Nadia Trevisan (Slov/Nor/It)
After her mother dies in an accident, Eva discovers her mother's secret connection to a co-worker. She becomes close to the man while distancing herself from her father and brother. "This gives her an opportunity to escape from pain, she chooses anger instead," Prosenc said. "He is the person she can share her loss with." Prosenc previously directed Slovenian Oscar candidate The Tree.
Holiday, dir Isabella Eklöf, prod David B. Sørensen (Den/Neth/Swe)
Eklof's debut feature is set in Turkish seaside town Bodrum, the story follows a girl who goes on holiday with her gangster boyfriend and his friends. She meets a sweet, poor young sailor. Eklof said, "it's an arthouse film that has a dark absurd humour."
Impaled Rektum, dirs Jukka Vidgren and Juuso Laatio, prods Kai Nordberg and Kaarle Aho (Fin-Nor-Bel)
A comedy about the worst heavy metal and in Finland journeying to play a big metal festival in Norway. Aho said the target audience "is 50 million hard-core heavy metal fans" across the globe. Scanbox has Scandinavian rights.
Jimmie, dir Jesper Ganslandt, prods Jesper Kurlandsky Hedvig Lundgren, Juan Libossart (Swe)
A road movie about a father and son fleeing Sweden for a safer life, as seen through the eyes of a four-year-old. Lundgren said, "What we are trying to say with this film is a child's universe is both very small and wider than any grown man's imagination could be." Mans Mansson serves as DoP and the director stars with his real son, Hunter.
Los Bando Immortale, dir Christian Lo, prods Nicholas Sando and Trine Aadalen Lo (Nor)
Two teenagers and their younger bass player go on a crazy journey across Norway to attend a band competition. "It's a feel good comedy about music and friendship, for the whole family," Lo said. Sola Media handles international sales.
Mihkel, dir Ari Alexander Ergis Magnússon, prods Ari Alexander Ergis Magnusson, Fridrik Thor Fridriksson, Kristinn Thordarson, Leifur B. Dagfinnsson (Ice)
The Screaming Masterpiece director makes his feature fiction debut with the story of two Estonian men in Iceland whose drug smuggling plans go awry. The producers include the heads of Truenorth and Oscar-nominated director Fridrik Thor Fridriksson. "It's based on a real story that happened in Iceland in 2004," the director said. "It's not a drug movie, it's a real human story about taking all the wrong decisions." LevelK handles international sales and the film will be delivered at the end of the year.
Opportunity Knocks, dir Arild Fröhlich, prods Kjetil Omberg, Jørgen Storm Rosenberg (Nor)
Anders Bassmo Christiansen and Ine Jansen play a couple in their late 30s who inherit a house but have trouble with the renovations. Frohlich said, "I've always wanted to make a 'clean' comedy, a comedy that's just a comedy." Frohlick previously directed the popular Doctor Proctor movies. Nordisk has Scandinavian rights.
Ploey – You Never Fly Alone, dir Arni Olafur Asgeirsson, prods Hilmar Sigurdsson, Ives Agemans (Ice/Bel)
The €7m 3D animation is about a plover chick who hasn't yet learned to fly must survive the arctic winter without his family. Asgeirsson said it is a "family tale with a Nordic twist." ARRI Media handles international sales and the film will be delivered at end of year.
The Return, dir Malene Choi, prods Julie Walenciak, Julie Rix Bomholt, Katja Adomeit (Den/S Kor)
In this rare Danish-South Korean co-production, two Danish-Korean adoptees have a disorienting journey to their motherland. This doc-fiction hybrid is partially scripted based on Choi's personal experiences as well as including interviews with adoptees. Choi, who makes her feature directorial debut, said, "the film is based on my experience based on my own travels from Denmark to Korea where I tried to find out more about my history."
The Second Sex, dir Katja Eyde Jacobsen, prods Maria Ekerhovd and Elisa Pirir (Nor)
A portrait of a grandmother, mother and daughter, with both documentary and fictional elements. Jacobsen said, "through this film I will try to challenge the idea of the woman as other…the characters are based on my grandmother, my mother and myself, but more representatives of generations and time than their actual stories." The film is still in production.
The Tower, dir Mats Grorud, prods Frode Søbstad, Annika Hellstrøm, Patrice Nezan (Nor/Swe/Fr)
Animation about an 11-year-old Palestinian girl learning about her family's past generations in a Beirut refugee camp. Sobstad said, "The director lived for two years in one of these camps, teaching and giving animation workshops. The Tower is based on his experience, his interviews and other archive research. It's fiction based on true stories." Jour2Fete handles sales.
Uchronia, dir Azin Feizabadi, prods Maximilian Haslberger, Viktoria Stolpe (Ger/Iran)
A contemporary interpretation about an ancient Middle Eastern saga about two disembodied aliens travelling to Berlin. Artist/filmmaker Feizabadi said the project "has a personal urgency for me." Amerikafilm handles international sales.
The Violin Player, dir Paavo Westerberg, prods Mikko Tenhunen, Ulla Simonen (Fin)
A famous violin player has to give up playing after an accident, she starts teaching and falls in love with one of her students who is 20 years younger. The Bridge's Kim Bodnia plays a demanding conductor. Debut feature filmmaker Westerberg co-wrote the script with his wife Emmi Pesonen. "It's a realistic drama about love, passion, ambition, betrayal and music," he said. SF Studios has Scandinavian rights.
The Way To Mandalay, dir Ole Bornedal, prods Jonas Allen and Peter Bose (Den)
The story of Danish musician John Mogensen, solo artist and member of popular band Four Jacks. Rasmus Bjerg takes the lead role. Bornedal said, "he was a very prominent singer and composer in Danish pop music in the '60s and '70s…he ended up more or less homeless, sleeping on benches and drinking heavily. It's a very lyrical poetic story about his man, but it's also about never being happy with what you do, and that impossible greed for perfection." Bornedal has credits including The Possession and 1864. TrustNordisk handles sales.
Wild Witch, dir Kaspar Munk, prods Stinna Lassen and Anni Faurbye Fernandez (Den-Nor-Hug)
A 12-year old girl is attacked by a black cat and then discovers she is a Wild Witch that has a special connection to nature and animals.
Lassen said the film is based on a series of popular books. "We've always had the creative vision to stay true to the Nordic DNA of these great books, it's an adventure film with a lot of heart." The film is made using real, not CGI, animals. It shot on location in a forest near Budapest for 9 weeks. Munk previously directed Hold Me Tight. TrustNordisk handles sales and Nordisk has Scandinavian rights.