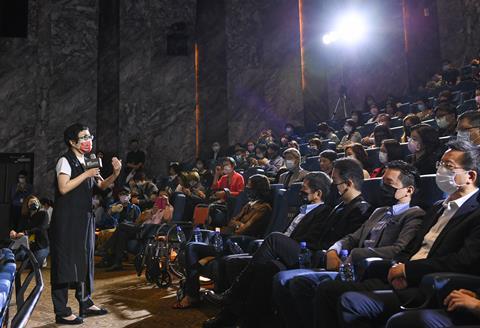 Taiwan Creative Content Agency (TAICCA) and four Taiwanese exhibitors are launching a joint venture, Bole Film, to support the production and distribution of Taiwanese films.
The company is backed by TAICCA and Good Hands Film – a joint venture between Vieshow Cinemas, Showtime Cinemas, Ambassador Theaters and SK Cinemas. Between them, the four cinema chains account for more than 70% of Taiwan's box office. The goal of the new venture is to use their box office data to inform the development of films that meet market needs.
TAICCA's funding comes through the third phase of Taiwan's National Development Fund, which was established to support public-private partnerships, and has also backed content-related start-ups such as Screenworks Asia.
Bole Film aims to become a film production and investment platform, with domestic and international distribution channels, marketing support and "introduction to strategic alliances and partners".
The start-up has already unveiled an initial slate of seven film projects, from directors such as Liao Ming-Yi and Cheng Wei-Hao (see details below). Singapore-based mm2 Entertainment has already come on board and will invest 10% in all of Bole's current projects.
Speaking at a launch event, TAICCA chairperson Hsiao-ching Ting said: "TAICCA and four major cinemas co-invest in a company to introduce consumer insights from the early stage of production. Introducing consumer preferences and embracing a marketing mindset during early-stage development is an important milestone for Taiwan's film and TV industry."
Bole Film plans to provide up to $70,000 (NT$2m) for development per project. For medium-sized local films with a total budget of under $2.1m (NT$60m), the company will invest up to $350,000 (NT$10m) per film.
The aim is to produce three to five Taiwanese films each year, in the process encouraging both domestic and international investment into the Taiwanese film industry. Bole also plans to connect local films to international OTT platforms and distribution channels.
Bole Film's upcoming projects include:
In Justice – adapted from a novel about vigilante justice by the team behind iWeirdo, with director Liao Ming-Yi, and producers Wang Shih and Chen Yi-Hua.
Salli – a Taiwan-UK co-produced romantic comedy inspired by a real-life internet fraud incident in Taiwan, which won the 2019 Golden Horse FPP.
U Motherbaker – film version of Taiwan's most popular TV show in 2020, reuniting the original cast and crew.
A suspense thriller directed by Cheng Wei-Hao (The Tag-Along) and Chen Yi-Fu.
An action comedy also from director Cheng Wei-Hao with Calendar Studios Co.
Projects in development include The Perfect Family and 2020 FPP shortlisted film, Wild Green, from Lin Han.