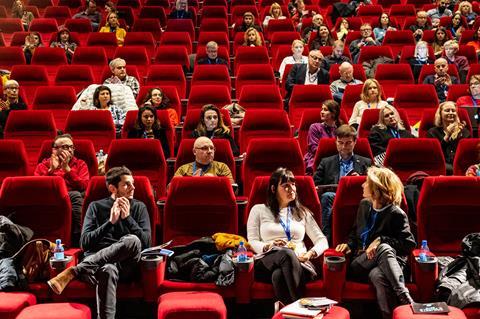 The industry activities of Estonia's Tallinn Black Nights Film Festival are to move completely online this year, due to Covid-19 travel restrictions.
Industry@Tallinn and Baltic Event were due to run November 23 to 27, which has been drawing an increasing number of delegates in recent years and recorded more than 600 guests in 2019.
But following the first signs of a possible resurgence of coronavirus in Estonia, the festival and industry heads have decided to shift the professional platforms online. Preparations to hold a physical version of the festival, which is set to host its 24th edition from November 13 to 29, are ongoing.
"Following the discussions with Estonia's health officials, it seems more than likely that there will be another outbreak in one form or another and that foreign travel will either be blocked or with restrictions," said Marge Liiske, head of Industry@Tallinn & Baltic Event.
"This would not enable our guests to attend the events properly and thus, with a heavy heart, we have decided from early on to not to take any risks and move all our activities online this year."
However, she added that moving online would offer new opportunities and said: "We hope that even more film industry professionals are able to benefit from our programme, as they do not have to travel to Tallinn to attend the events and can access the content from anywhere."
The online version of the industry platform is set to include seminars, workshops, masterclasses and panel discussions as well as events directed toward showcasing actors from the region.
Submissions will remain open for the Baltic Event Co-production Market, Script Pool Tallinn and POWR Baltic Stories Exchange (aimed at Nordic and Baltic scriptwriters seeking producers) until September 21.
Festival plans
Meanwhile, the festival team has been considering the format of this year's edition since Estonia's first lockdown in March.
It has been preparing to host a physical festival while also upgrading its digital infrastructure so that a hybrid or even totally virtual event will be possible.
If foreign travel to Estonia continues to be restricted, industry delegates will be granted access to the festival's line-up digitally, via the Shift72 platform which has been increasingly adopted by other such events worldwide since the beginning of the pandemic.
However, physical screenings have not been cancelled as the Health Board of Estonia remains optimistic that the complete closure of cinemas can be avoided. But with filmmakers from around the world usually present in Tallinn, the festival is preparing for virtual introductions and Q&As around their selection.
It is also highly likely that this year's line up will be reduced. Last year's edition screened 200 features and eight TV series, with films originating from 77 countries. It included 31 world premieres and 31 international premieres. There were also 1,400 accredited guests, a 20% rise on the 1,161 delegates who attended in 2018.
Tiina Lokk, the director and head of the programme of Black Nights, said it had gained experience of virtual screenings and Q&As in recent months through companion events including the Haapsalu Horror Film Festival, which took place online, and the Tartu Love Film Festival, which went ahead as a hybrid event.
"Some of the changes that are being prepared will actually rewire the festival's DNA, making it more digital, networked, ubiquitous and inclusive than ever before," said Lokk. "But first and foremost, we are hoping to make the physical festival still happen this year.
"We are doing everything in our power to hold physical screenings and bring over as many foreign guests as possible, but the virus and Estonia's Health Board will have the final say in these matters."