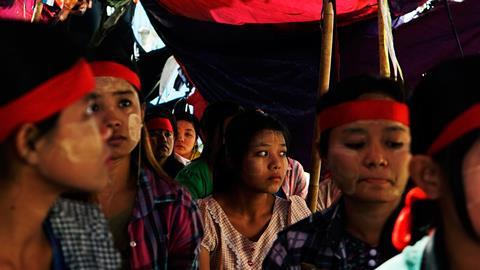 Bangkok-based film fund Purin Pictures has unveiled the two fiction and three documentary projects that will receive production grants in its spring 2020 funding round.
The two fiction projects, which receive $30,000 each, are The Women, directed by Myanmar's The Maw Naing, about a group of female factory workers protesting unjust treatment, and This City Is A Battlefield, from Indonesia's Mouly Surya, a period drama set in the aftermath of the Second World War (see full details below).
The three documentary projects, which receive grants of $15,000 each, include two from Singapore – dance doc I Am Walking, about Southeast Asian voguers, and A Man Like Me, about Singaporean writer Yeng Pway Ngon – along with one project from the Philippines, Miko Revereza's experimental work Nowhere Near.
Purin Pictures co-directors Aditya Assarat and Anocha Suwichakornpong observed that the spring 2020 session saw roughly the same number of applications for production as previous sessions, but a marked decrease in applications for post-production funding.
"This was likely an effect of the worldwide Covid-19 situation preventing films from being completed," said Purin Pictures in a statement. "Therefore, for the first time, the reading committee chose not to give any post-production grants but gave five production grants instead."
The ongoing coronavirus outbreak has also impacted several film-related activities that Purin Pictures has funded in previous sessions, including its own Roundtable conference that was scheduled to take place in Bangkok in early July.
"With so much uncertainty around how things are unfolding, we decided to be on the safe side," said Anocha. "Though it's disappointing because we had been laying the groundwork for some time, we hope that normalcy will return soon and we can unveil our new initiatives in 2021".
PURIN PICTURES SPRING 2020 GRANTEES:
The Women – director: The Maw Naing, producer: Youngjeong Oh, prod co: One Point Zero (Myanmar)
A drama about Mi-Thet and her female co-workers in a Yangon sewing factory who band together to protest their unjust treatment at the hands of the factory owner.
This City Is A Battlefield – director: Mouly Surya, producer: Rama Adi, prod co: Cinesurya (Indonesia)
A period drama following Isa, an impotent war hero, as he leads a mission to bomb a cinema as the Dutch and English try to recolonise Indonesia after WWII.
I Am Walking – director: Chan Sze Wei, producer: Zi Qi Low, prod co: Tiger Tiger Pictures (Singapore)
A dance documentary about Southeast Asian voguers Sun, Teddy, and Ian as they make their way to the biggest runway in the world: The Latex Ball in New York City.
Nowhere Near – director: Miko Revereza, producer: Shireen Seno, prod co: Los Otros (Philippines)
An experimental documentary exploring stateless identity through the lens of the filmmaker returning to the Philippines, his estranged homeland.
A Man Like Me – director: Jiekai Liao, producer: Jiekai Liao, prod co: 13 Little Pictures (Singapore)
A documentary portrait of ailing Singaporean writer Yeng Pway Ngon in the twilight of his life, told through the merging worlds of fiction and reality.