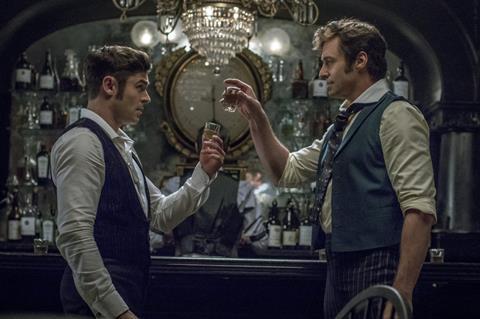 UK Top Five
| Rank | Film / Distributor | Weekend Gross (Fri-Sun) | Running Total | Week |
| --- | --- | --- | --- | --- |
| 1 | The Greatest Showman (Fox) | £2.18m | £23.2m | 6 |
| 2 | Coco (Disney) | £1.65m | £10.23m | 3 |
| 3 | Darkest Hour (Universal) | £1.64m | £18.68m | 4 |
| 4 | Early Man (Studiocanal) | £1.5m | £3.93m | 2 |
| 5 | Maze Runner: The Death Cure (Fox) | £1.35m | £4.32m | 2 |
Today's GBP to USD conversion rate - 1.41
Fox
Following five weeks of impressively consistent returns, this weekend The Greatest Showman rose to top spot at the UK box office, recording a hugely impressive uptick of 6% with £2.18m.
The film has now crossed £20m and, after strong numbers all week, is up to £23.2m. It was still playing in 500 locations on Sunday and hasn't shown any signs of slowing down yet.
Maze Runner: The Death Cure dropped to fifth place in its second weekend, falling 40% to £1.35m. The film's cume is now £4.32m and the totals posted by the franchise's previous two entries (both close to £9m) look challenging.
Three Billboards Outside Ebbing, Missouri fell 30% and is down to eighth in the chart. The film's weekend total of £881,664 puts it on £9.43m and it should cross £10m next week.
Ferdinand added £53,229 this weekend for £9.24m to-date.
Disney
Coco recorded a slim drop of 29% this weekend. The Disney-Pixar animation added £1.65m, squeezing it just ahead of Universal's Darkest Hour on the chart and taking it to £10.23m to-date. With school holidays set to come in the next two weeks, the film is likely to move closer towards the mark set by Brave (£22.16m).
Star Wars: The Last Jedi added £135,000 and now sits on £82.43m. It should finish at around £83m, that's £17m up on spin-off Rogue One: A Star Wars Story (£66.01m) but some way shy of Star Wars: The Force Awakens (£123.23m), which is beginning to look like a one-off.
Universal
Darkest Hour added £1.64m this weekend, a drop of 39%. The film is up to a strong £18.68m and further awards buzz should keep it ticking over in the next few weeks.
Paul Thomas Anderson's Phantom Thread, starring Daniel Day-Lewis in what he says will be his last acting role, opened with £723,766 including previews of around £70,000. The film played in 195 locations this weekend, taking £653,429, giving it a Fri-Sun average of £3,351.
Pitch Perfect 3 added £42,856 and is up to £15.2m.
Studiocanal
Early Man moved up to fourth position in its second weekend, posting a strong hold of £1.5m for a drop of just 26%. The film is up to £3.93m and, if boosted by half term holidays, will be looking to chase down the £13.76m posted by Shaun The Sheep Movie.
The Commuter added £275,707 and is up to £3.64m, while Paddington 2 added £64,471 and is up to £41.62m.
STX International
Gerard Butler-starring action feature Den Of Thieves opened in 421 sites this weekend, taking £1.08m.
EONE
The Post added £959,862 in in third week, moving it to £7.22m to-date. Molly's Game posted £26,239 and is on £3.95m.
Sony
Despite garnering an Oscar nomination for leading man Denzel Washington, Roman J. Israel, Esq. flopped on its UK debut, taking just £22,000 from its 97 screens for an average of just £227. The film will need Washington to pull off an upset at the Oscars in March to garner it some more attention.
Jumanji: Welcome To The Jungle posted another decent hold, dropping 29% to £869,000 for a cume of £35.3m. Insidious: The Last Key is up to £5m after posting £218,000 this weekend, it doesn't look like it will reach Insidious 2's total of £7.3m. All The Money In The World is now up to £3.1m.
Call Me By Your Name also posted an uptick this weekend, rising 16%. It now sits on £1.5m.
Lionsgate
Helen Mirren-starring haunted house horror Winchester opened in a wide 336 sites, posting £372,758 for a fairly disappointing looking site average of £1,109.
Journey's End opened in 94 sites with takings of £123,727, a slightly better average of £1,316.
More results to come…