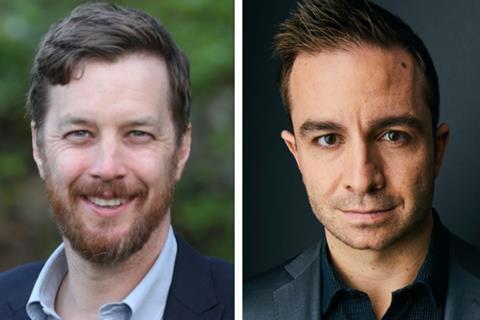 Los Angeles-based Balcony 9 Productions, who recently wrapped The Immaculate Room with Kate Bosworth, Ashley Greene and Emile Hirsch, has hired Max Osswald as head of development and EVP of production, and promoted Chase Hinton to development executive.
The executives will oversee development and production on projects across film, television, documentary, documentary series, and podcasts.
Osswald arrives from National Picture Show Entertainment, which he co-founded in 2009 and oversaw development and production on A Deadly Adoption starring Will Ferrell and Kristen Wiig, and American Koko, on which he served as executive producer alongside Viola Davis and Julius Tennon.
Hinton has spent the last year with Balcony 9 as creative executive and his feature writing credits include IRL.
Balcony 9, founded in 2019 by Joel David Moore and Rishi Bajaj to develop content across film, television and podcasting, is currently in production on Brit McAdams' comedy Paint starring Owen Wilson, Michaela Watkins, Wendi McLendon-Covey, and Steven Root.
Among the company's upcoming projects are a feature based on Stephan Talty's novel Speed Girl that will star Hilary Swank as Janet Guthrie, the first female driver to qualify for the Indy 500 and Daytona 500. Swank is producing the film with partner Philip Schneider.
Balcony 9 is expanding its development and production activities and has a first-look deal with Productivity Media Inc. Moore said the skill set of Osswald, who co-produced The Immaculate Room with the company, would help it achieve its goal, while Hinton's work in development and packaging would also be critical.