Fox's sci-fi adaptation posts best-ever UK bow for Ridley Scott; StudioCanal's Legend becomes distributor's third biggest release.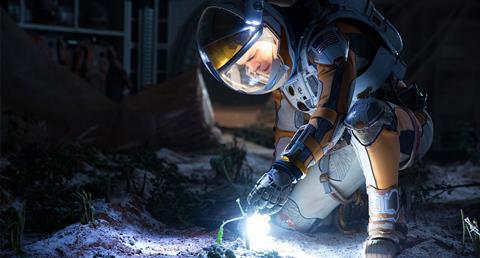 FOX
Repeating its chart-topping domestic bow, The Martian landed top of the UK box office as it dethroned Everest.
Fox's sci-fi adaptation grossed an excellent non-final $9.9m (£6.5m), including just over $2.4m (£1.6m) in previews, from its 585 sites. Its Fri-Sun tally of $7.4m (£4.9m) would have also seen it comfortably debut at number one.
That marks director Ridley Scott's best-ever UK opening, topping Hannibal's $9.7m (£6.4m) debut from 421 sites. However, it's worth noting that Hannibal achieved that without previews so it remains Scott's best Fri-Sun tally.
The Martian opened ahead of recent notable sci-fi outings Gravity ($9.5m/£6.2m from 539) and Interstellar ($8.2m/£5.4m from 574). Time will tell if it ends up closer to Gravity's $49.7m (£32.7m) result or Interstellar's $31.3m (£20.6m).
Also for Fox, Maze Runner: The Scorch Trials fell 40% with a $913,000 (£600,633) fourth weekend for $12m (£7.9m) to date, as it attempts to overtake The Maze Runner's $13.5m (£8.89m).
STUDIOCANAL
Legend remained in second with a $1.6m (£1.05m) fourth weekend.
StudioCanal's well-received Krays biopic is now up to a strong $23.3m (£15.37m), making it the distributor's third biggest release ever behind Paddington ($57.5m/£37.9m) and The Imitation Game ($24.9m/£16.4m).
Also for StudioCanal, Macbeth charted fourth with a solid, if unspectacular, $1.13m (£746,642) debut from its 399 sites.
The good weather this weekend might have impacted it, but Macbeth will hope to draw in the crowds midweek due to its older-skewing audience.
UNIVERSAL
Last week's champion Everest fell to third after around a 40% drop in its third weekend.
Universal's real life disaster thriller hiked to an extra $1.3m (£849,634) for $13.3m (£8.73m), and should be on the cusp of £10m by the end of this coming weekend.
Also for Universal, The Visit scared up $162,000 (£106,761) for $4.3m (£2.8m) after four weeks in play, as Straight Outta Compton reached $12.4m (£8.15m).
WARNER BROS
Clocking in at fifth on its UK box office bow was Warner Bros' The Intern with $1.11m (£732,000) from its 431 sites.
That marks the lowest opening for Nancy Meyers since her directorial debut, The Parent Trap, grossed $754,000 (£496,161) from 357 sites back in 1998.
The Intern will hope to at least hold well to surpass The Parent Trap's $7.6m (£5m) result, currently Meyers' lowest grossing outing.
EONE
Falling just over 40% (excluding previews), eOne's Miss You Already recorded a non-final $307,000 (£201,890) second weekend for $1.7m (£1.1m) to date.
DISNEY
Inside Out is starting to slow down after its excellent UK run. Disney's critically acclaimed animation fell 58% to take $273,000 (£180,000) for $58m (£38.15m) after 11 weeks in play.
ENTERTAINMENT
Posting a hefty drop of over 70% in its second weekend, Entertainment's Solace took just $95,000 (£62,513) for a ten-day tally of $928,000 (£610,872).
SONY
With the IMAX release of The Walk and the previews of Hotel Transylvania 2 counted towards their official releases on Oct 9 and 16, respectively, Sony's only chart entry was Pixels with $64,000 (£42,000) for $12.8m (£8.4m) to date.
VERTIGO
In its third weekend, Vertigo Films' Bill added $60,000 (£39,629) for $768,000 (£505,468). Given the success of Horrible Histories, it's likely to fare better on its home entertainment release.
DOGWOOF
Released in eight sites through Dogwoof, 3½ Minutes, Ten Bullets posted a UK debut of $12,000 (£7,938), including $7,200 (£4,769) in previews.
UPCOMING RELEASES
This week sees saturation releases for Lionsgate's Sicario (opens Oct 8), Entertainment's Regression and Sony's The Walk.
Altitude's The Nightmare, Curzon Artificial Eye's Red Army and Soda Pictures' Zarafa are among the films receiving a limited release.