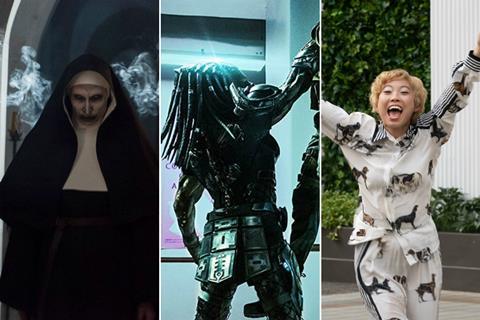 Today's GBP to USD conversion rate - 1.31. *P = previews

| | | | | |
| --- | --- | --- | --- | --- |
| Rank | Film / Distributor | Three-day gross (Sept 14-16) | Running gross | Week |
| 1 | The Nun (Warner Bros) | £1.8m | £7.7m | 2 |
| 2 | The Predator (20th Century Fox) | £1.7m | £2.6m | 1 |
| 3 | Crazy Rich Asians (Warner Bros) | £1.6m | £1.6m | 1 |
| 4 | King Of Thieves (Studiocanal) | £1.5m | £1.5m | 1 |
| 5. | The House With A Clock In Its Walls (eOne) | £1.1m | £1.1m | P* |
Warner Bros
US horror The Nun retained its place at the top of the tree this weekend, adding a further £1.8m for a cume of £7.7m after two weeks. The film is a spin-off of The Conjuring franchise, the first entry in which topped out at £10.5m in the UK while its sequel made £11m (both also via Warner Bros). The Nun is well on its way to topping those totals.
The film narrowly beat new openers The Predator and Crazy Rich Asians - the latter kicked off with £1.6m from 532 sites, an average of £3,008. A romantic comedy featuring a host of well-known Asian, Asian American and Asian British actors, including Michelle Yeoh, Lisa Lu, Gemma Chan and Awkwafina, the film has been a smash in the US, taking more than $139m to date.
The UK opening is a little behind the pace of its US bow ($26m) when using the conventional method of taking 10% of a US opening weekend as a yardstick for its UK opening, without converting currency, but Warner will feel the film has good prospects to build on that figure after showing strong legs un the US.
Elsewhere for Warner, The Meg is up to an impressive £15.5m after adding £247,000 this weekend, while Luis And The Aliens is up to £701,000 after adding an additional £33,000.
20th Century Fox
Shane Black's The Predator opened to £1.7m in the UK from 550 sites, an average of £4,363. With previews, the film's official opening is £2.4m. The original Predator maxed out at £2.7m back in 1988. A more recent comparison is the 2010 franchise reboot Predators, which opened to £2.2m in July 2010, and eventually reached £5.8m.
Studiocanal
King Of Thieves, James Marsh's take on the true-life Hatton Garden burglary, opened to a respectable £1.5m from 494 sites. An average of £3,036. With previews, its running total is £1.54m.
The film tells the story of a group of elderly men who steal some £200m worth of valuables from an underground vault in London. Michael Caine, Michael Gambon, Tom Courtenay, Jim Broadbent and Ray Winstone star in the film which is produced by Working Title.
Director Marsh's previous credits include The Mercy (which opened to £301,492 earlier this year) and box office smash The Theory Of Everything, which opened to £3.8m and closed on £21.7m.
Disney
Christopher Robin added a further £525,000 this weekend, taking it to a solid £13.2m to date. Incredibles 2 is up to a fantastic £54.9m after adding £350,000 in its tenth week, while Ant-Man And The Wasp is now on £17.6m after posting £132,000 this weekend.
Universal
Mamma Mia! Here We Go Again added a further £487,401 in its ninth week and is up to a huge £64.2m in the UK. BlacKkKlansman is up to £5.4m after adding £420,883.
Sony Pictures
Director X's crime thriller Superfly opened to a very soft £15,600 from 109 locations. Puzzle added a further £4,223 from 27 locations for £51,099 so far.
Elsewhere for Sony, Equalizer 2 is up to £7.3m after adding £141,369; Hotel Transylvania 3 is up to £18.6m after posting a further £257,121; Alpha is up to £544,265; and Slender Man is now up to £1.1m.
Paramount
Mission: Impossible - Fallout added £143,000 and is up to a running total of £24m.
Curzon
In its third weekend, Cold War added an impresive £108,236, bringing the total gross to £748,089 so far.
Entertainment One
The Children Act added a further £93,306 this weekend and is now on £2.4m.
The Seagull, which eOne is handling for Thunderbird Releasing, added £25,097 and is up to £108,201.
Previewing this weekend, Eli Roth's family feature The House With A Clock In Its Walls grossed a non-final £1.1m ahead of its official release on Friday (Sept 21).
STXinternational
Bart Layton's American Animals is up to £588,298 in the UK after adding £85,192 this weekend, while The Happytime Murders had now reached £1m.
Eros International
Hindi romance Manmarziyaan (English title Husband Material) opened to £62,739 from 64 locations.
Vertigo
The Miseducation Of Cameron Post added £39,961 from 63 sites for a cume of £264,848.
Entertainment FIlm Distributors
The Festival added £23,653 from 82 sites, taking it to £3.4m to date.

Altitude
Chloe Zhao's critical hit TheRider debuted in 44 sites with £23,633, and now stands on £36,254 including previews. The film tells the true story of a young cowboy in the US who suffers a near-fatal head injury, and stars the actual cowboy (playing a fictionalised version of himself) alongside members of his real family. It has ridden a wave of critical praise since its premiere in Cannes Directors' Fortnight last year and Altitude will be hoping it has the legs to build on that initial opening.
Altitude is also teaming with Irish outfit Wildcard Distribution on the release of its Irish drama Black47. After a superb opening of £398,814 across Ireland and Northern Ireland, the film fell a slim –26% this weekend, adding £211,809 for £802,792 to date. Wildcard handles the Irish/Northern Irish release and Altitude will roll the film out in the UK on Sept 28.