Warner Bros' Creed fails to deliver knockout punch but still lands solid $3.2m (£2.22m) hit on debut.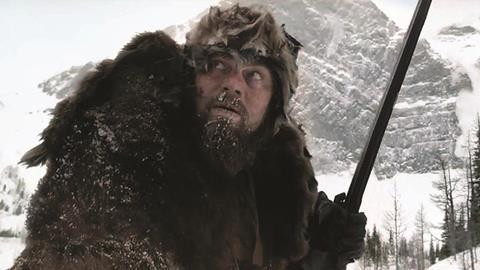 FOX
The Revenant ended the reign of Star Wars: The Force Awakens at the UK box office in some style.
Fox's awards frontrunner scored a terrific $7.5m (£5.23m) debut from its 589 sites, recording a market-leading $12,630 (£8,856) site average. The opening included $208,000 (£145,884) in previews.
The Revenant will shortly overtake Birdman's final UK result of $8.3m (£5.8m) to become Alejandro González Iñárritu's best-ever performer. With likely awards recognition to come, it is set for a lengthy run.
For comparison, Leonardo DiCaprio's last awards contender, The Wolf Of Wall Street, launched with $6.7m (£4.66m) from 500 sites and went on to take $32.5m (£22.7m). A similar run seems likely for The Revenant, especially given its lower certificate.
Also for Fox, Snoopy And Charlie Brown: The Peanuts Movie held well as it dropped just 31% on its way to a non-final $678,000 (£475,315) weekend for $12.8m (£8.9m) after four weeks in play.
Joy and Bridge of Spies have grossed $6.3m (£4.38m) and $10.6m (£7.43m), respectively.
DISNEY
Star Wars: The Force Awakens posted a respectable 48% drop in its fifth weekend as it fell to second.
Disney's record-breaker added an extra $4.4m (£3.1m) for a staggering $162.9m (£113.9m) to date. With $7.9m (£5.5m) added over the past seven days, a final tally of around £120m looks likely.
Also for Disney, The Good Dinosaur is up to $19.4m (£13.6m) following a $415,000 (£290,000) eighth weekend. Barring a late surge, it will end its run as the lowest Pixar outing in the UK.
WARNER BROS
Creed couldn't quite land the knockout punch at the UK box office as it charted third on debut.
Warner Bros will likely still be pleased with a $3.2m (£2.22m) opening, including $93,000 (£65,000) in previews, from its 482 sites for a sturdy $6,578 (£4,602) site average.
The last Rocky outing in the UK, Rocky Balboa, launched with $5.2m (£3.64m) from 405 sites in 2007, but burned quickly to finish with $12.6m (£8.85m). Creed will hope that its critical acclaim will lead to better holdovers to challenge that tally.
Also for Warner Bros, In The Heart Of The Sea has sailed to $3.6m (£2.55m) after four weeks in play.
PARAMOUNT
Falling just 34% in its fourth weekend, Daddy's Home continued its excellent run at the UK box office with a $2.1m (£1.5m) weekend.
Paramount's comedy is now up to a strong $20.1m (£14.07m) but will face some comedy competition this Friday with the release of Ride Along 2.
ENTERTAINMENT
The Hateful Eight was arguably the biggest hit by The Revenant's arrival as it posted a drop of over 60% in its second weekend.
Quentin Tarantino's eighth feature added $1.6m (£1.1m) for a ten-day tally of $7.4m (£5.2m) through Entertainment, and is now facing a challenge to even get close to Django Unchained's $22.4m (£15.7m) record as Tarantino's best-ever UK performer.
At the same stage in its run, Django Unchained stood at $10.3m (£7.19m) after dropping just 14% with a $3.5m (£2.42m) second weekend.
UNIVERSAL
The Danish Girl dropped almost 50% with a $976,000 (£682,542) third weekend as it charted sixth.
Universal's biopic has now taken $7.8m (£5.5m) in the UK and will hope to continue posting decent midweek numbers. Otherwise, it could be out of cinemas by the time any potential award wins boost its tally.
Also for Universal, Sisters has amassed $4m (£2.77m) after five weeks in play.
STUDIOCANAL
Bolstered by critical acclaim and awards recognition, Room got off to a healthy start at the UK box office.
Studiocanal's adaptation moved into seventh with a $959,000 (£671,245) debut, including $130,000 (£91,133) in previews, from its 197 sites. That marks a $4,868 (£3,407) site average, the fourth-best of the market this weekend.
Key to Room's success will be if it manages to post sturdy midweek numbers, otherwise it could find it challenging at the weekends with an increasingly busy market.
Also for Studiocanal, Carol and A War stand at $3.6m (£2.5m) and $47,000 (£32,730), respectively.
LIONSGATE
The Hunger Games: Mockingjay - Part 2 now stands at $41.5m (£29.05m) in the UK following a $138,000 (£96,378) ninth weekend through Lionsgate.
Also for Lionsgate, Brooklyn has grossed $7.6m (£5.29m) to date.
SONY
Nearing the end of its tremendous run, Sony's Spectre is up to $135.5m (£94.75m) after a $99,000 (£69,000) weekend.
UPCOMING RELEASES
This week sees saturation releases for Universal's Ride Along 2 and Paramount's The Big Short, while Sony's The 5th Wave and Warner Bros' Our Brand Is Crisis both receive wide releases.
Studiocanal's The Assassin, Metrodome's The Visit: An Alien Encounter and Bulldog Film Distributor's Lost In Karastan are among the films receiving a limited release.