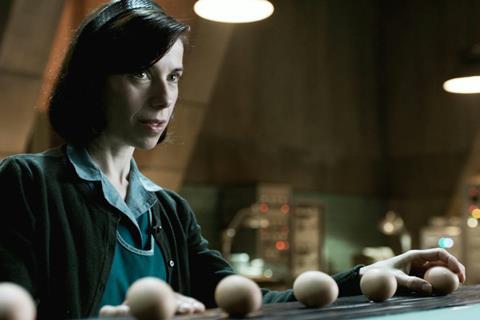 Fox Searchlight's The Shape Of Water received a big fillip in its Oscar ambitions as it won the Producers Guild Of America's (PGA) Darryl F. Zanuck for best feature at the 29th annual PGA Awards in Los Angeles on Saturday night (January 20).
The PGA best feature winner has gone on to win the best picture Oscar in 19 out of the last 27 years. That said, in the last two years PGA winners La La Land and The Big Short lost out at the Academy Awards to Moonlight and Spotlight.
Director-producer Guillermo del Toro was absent due to the ill health of his father in Mexico. His fellow producer J. Miles Dale collected the honour and read a message on behalf of del Toro.
Jordan Peele won the Stanley Kramer award for a film that raises awareness of social issues for Universal's Get Out.
The Award for Outstanding Producer of Documentary Motion Pictures went to Jane (Abramorama) producers Brett Morgen, Bryan Burk, Tony Gerber, and James Smith. Coco (Pixar) producer Darla K. Anderson collected the award for outstanding animated feature.
Hulu's The Handmaid's Tale won The Norman Felton Award for Outstanding Producer Of Episodic Television, Drama. Producers are: Bruce Miller, Warren Littlefield, Daniel Wilson, Fran Sears, Ilene Chaiken, Sheila Hockin, Eric Tuchman, Frank Siracusa, John Weber, Joseph Boccia, Elisabeth Moss, Kira Snyder, and Leila Gerstein.
The Marvelous Mrs. Maisel from Amazon Studios triumphed with the Danny Thomas Award for Outstanding Producer Of Episodic Television, Comedy. Producers are: Daniel Palladino, Amy Sherman-Palladino, Sheila Lawrence, and Dhana Rivera Gilbert.
The David L. Wolper Award for Outstanding Producer of Long-Form Television went to Annabel Jones and Charlie Brooker for Season 4 of Netflix's Black Mirror.
For the full list of winners click here