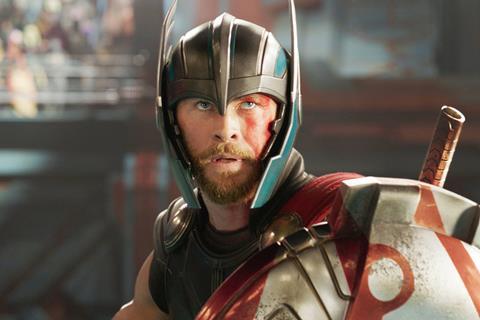 Thor: Ragnarok opens in China day-and-date with the US, and will be open in virtually its entire international footprint by Sunday. A Bad Moms Christmas and Murder On The Orient Express both debut in the UK, while Kingsman: The Golden Circle approaches $300m.
Thor: Ragnarok debuts in 19 territories this week, including China, Japan, India and Mexico through Walt Disney Studios Motion Pictures International. Last weekend, Thor: Ragnarok had the highest October opening weekend on record in several territories.
Taika Waititi directs the latest instalment in the Thor franchise. Chris Hemsworth returns in the title role alongside Tom Hiddleston as Loki, Mark Ruffalo as Bruce Banner/The Hulk, Cate Blachett, Idris Elba, Tessa Thompson, Karl Urban and Anthony Hopkins.
Disney executives expect nothing less than big business for Thor in China. The previous Thor instalment, Thor: The Dark World earned more than $55m in there in 2013, and went on to gross $438.2m internationally.
Cars 3 has amassed $228.3m and is completely opened. With the success of films like Cars 3 and Beauty And The Beast, Disney has now become the only studio to cross $4bn for five consecutive years. Disney has reached $4.103bn, with $2.701bn coming from the international box office and $1.402bn from North America.
Warner Bros Pictures International's Geostorm has reached $133m internationally. Dean Devlin's action film debuts in France and Italy this week, after debuting at number one in China last weekend. Horror smash It will be released in Japan this weekend. The horror currently stands at $346.5m. Elsewhere, The LEGO Ninjago Movie has grossed a paltry $59.4m and has no new openings.
Sony Pictures Releasing International's Blade Runner 2049 has reached $148.7m with no new openings. Any hopes of breaking the $150m mark were dashed after the film debuted in China last weekend at number three, generating just $7.6m. Denis Villeneuve's sci-fi sequel starring Harrison Ford and Ryan Gosling has no new debuts this week. The Emoji Movie heads into the weekend on $125.9m with no new openings.
Fox International's Kingsman: The Golden Circle is nearing the $300m international milestone. The film has reached $283.4m internationally, with no new openings this week. Idris Elba and Kate Winslet survival drama The Mountain Between Us stands at $17.2m as it debuts in three, including Brazil. Kenneth Branagh's adaptation of Agatha Christie's classic, Murder On The Orient Express, will debut in the UK.
Also through Fox, Emma Stone and Steve Carell biographical comedy Battle Of The Sexes debuts in Spain, Hong Kong, Puerto Rico, and the Dominican Republic. Elsewhere, Sundance standout Patti Cake$ debuts in Germany this week, as Spanish-language film Condorito from directors Alex Orrelle and Eduardo Schuldt debuts in Puerto Rico.
Jigsaw has reached $11.2m internationally through Lionsgate International licensees. The latest instalment of the Saw franchise debuted in 46 markets last weekend, and will expand to Italy, France, Australia, South Korea and Belgium this week.
Universal Pictures International's Happy Death Day, directed by Christopher Landon, debuts in six territories this week and currently stands at $22.4m. Tom Cruise action comedy American Made stands at $80.7m, as it prepares to debut in Argentina.
Michael Fassbender crime drama The Snowman has grossed $26.1m and will open in the Netherlands. Universal will release Tom Ford's drama Nocturnal Animals in Japan. Amy Adams, Jake Gyllenhaal, and Michael Shannon star. Historical drama Victoria And Abdul has reached $29.8m as it debuts three, including Taiwan.
STXfilms' will release A Bad Moms Christmas in the UK, Australia, and 13 additional territories this week. John Lucas and Scott Moore return to direct the sequel that also sees Mila Kunis, Kathryn Hahn and Kristen Bell reprising their roles. Last year's Bad Moms grossed $70.7m internationally, with $11.1m coming from the UK, and $11.8m from Australia.
Darren Aronofsky's mother! has reached $25.9m and has no new openings, while animation Tadeo Jones 2 stands at $21.1m through Paramount Pictures International.