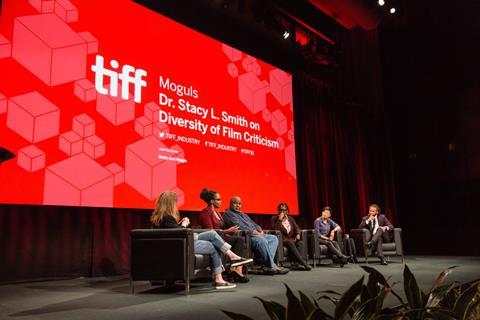 At the TIFF Industry Conference, Dr Stacy L Smith, founder and director of the entertainment-inequality think tank the USC Annenberg Inclusion Initiative (AII), unveiled findings revealing the stark lack of diversity in film criticism.
Examining reviews for the 300 top-grossing films aggregated on Rotten Tomatoes between 2015-2017, the ratio of reviews by top white male critics compared to those by top female critics was nearly 31 to 1, according to Smith and AII's latest study.
Smith presented her research findings at TIFF's panel on diversity in film criticism on Friday (Sept 7) at the CBC. She is best known for co-authoring the inclusion rider template.
Joined onstage by Jacqueline Coley, an editor at Rotten Tomatoes, film critic Valerie Complex and African American Film Critics Association president Gil Robertson, Smith addressed the lack of representation in film criticism and stressed the need to find solutions to "create a new industry standard."
Smith's AII study revealed that white male reviewers write 61.9% more reviews than females of colour. Calling the data "highly depressive," Smith went on to examine the relationship between critics' identities and reviews.
The findings revealed that underrepresented female reviewers rate underrepresented female leads higher than any other group. "A reviewer's identity could be a source of revenue for potential distributors," said Smith. Yet 48.3% of the 300 top-grossing films were found to be missing underrepresented women as top critics.
Following Smith's keynote, the panel discussed the need for an intersectional approach to film criticism. "There is diversity within diversity," Coley commented. "Black is not monolith. Asian is not monolith."
Smith introduced a database known as Critical as a tool to help studios and film critic associations better connect with journalists and critics from underrepresented groups. "The world in which we live in should match not only the stories that are being told but who is reviewing these stories," she concluded.