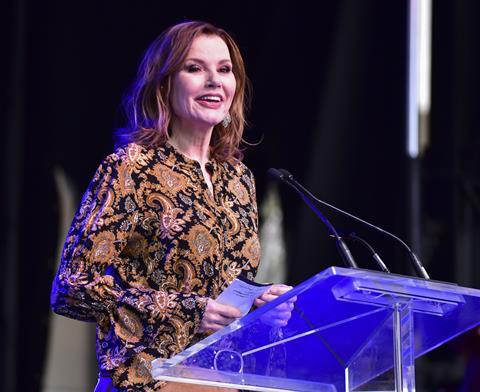 Hundreds of women and men gathered in downtown Toronto for TIFF's Share Her Journey rally for women in film. Named after TIFF's campaign for working towards gender equality in film, the rally was opened by TIFF executive director Michele Maheux, who introduced a line-up of female founders, actors and executives on stage to speak on the issue of women fighting for equality in the industry.
"Of the 1,100 most popular films released in the US in the last 11 years, only 4% have female directors," noted Dr Stacey L Smith, who had shared the results of a study by the USC Annenberg Inclusion Initiative the previous day.
Amma Asante, who is premiering her fourth film Where Hands Touch at the festival, joined the panel on stage to discuss how the issues facing women in the industry become magnified for women of colour.
"In our numbers, we are tiny," said the UK filmmaker. "When I last looked, black women directors didn't even make up one percent of the industry we work in. In the US, people of colour make up a higher percentage of people who go to the movie theatre. However both in Hollywood and the UK, the will to place women behind the camera, to craft a portion of the stories that make it to the screen is being drawn from a well that is painfully dry."
"There's gender inequality in every sector in society, and certainly in every aspect of the entertainment industry," said Geena Davis, founder of The Geena Davis Institute, which studies gender representation in the media, with particular attention to media made for children.
"What I chose to focus on is on screen," Davis said. "Very specifically, on screen representations in media made for little kids. I feel like this is the easiest fix. It's the lowest hanging fruit in all the panoply of problems that we have. It's also the most urgent because why are we teaching kids something that we try so hard to get rid of later on?"
This Changes Everything, Davis's documentary on sexism in Hollywood, premiered at TIFF following the rally.
The rally continued conversations started by anti-sexual assault and women's empowerment movements like #MeToo and #TimesUp. Actress Mia Kirshner, co-founder of #AfterMeToo, spoke about the lack of resources and investigation tools for sexual violence in the workplace. #AfterMeToo is a movement that seeks to create safe and equitable workplaces.
"We have heard many leaders say over the course of the year, 'We stand by you, we have zero tolerance' but what do you mean?" Kirshner asked. "Because when I peel back the layers over the course of the year and I look at specific change to the mechanisms around investigating workplace sexual violence, in terms of what exists for survivors and bystanders, there is no change. That's not good enough. We can do better and we will."
The future is female
Addressing a crowd that was fairly evenly split between men and women, Davis said her motto is "there are no missed opportunities" and encouraged people working in the industry to strive for gender balance. "Do a gender pass. Don't let it get cast or shot until somebody looks at it, and you go through it and you say 'Who here can become an intersectional female character?'" she said.
"Amplifying is an active thing, and we have to do it," said Sundance Institute's executive director Keri Putnam. "We can build networks of hiring, financing and distribution that are deliberately more inclusive. You can decide to hire differently, to mentor someone, to join one of the many networks that are available."
The rally closed with Welle Entertainment president Cathy Schulman reciting the popular feminist slogan "the future is female".
The Share Her Journey campaign launched last year when TIFF made a five-year commitment to working towards gender equality and justice for women in film. The campaign raised $1.3m in 2017, and a goal of $1m has been set for 2018. The campaign includes mentorship programmes, activities, and artistic skills and media literacy development for young creators.
Only in its second year, Maheux commented on the difference a year makes. "Collectively we have managed to shake the unshakeable," she said. "It's not been without pain but the sisterhood that has emerged reminds us that we are in it together."