Speaking at TIFFCOM today, Netflix Japan vice president David Lee reported strong interest in the company's US originals such as Daredevil, despite the Japanese audience's usual indifference to Hollywood content.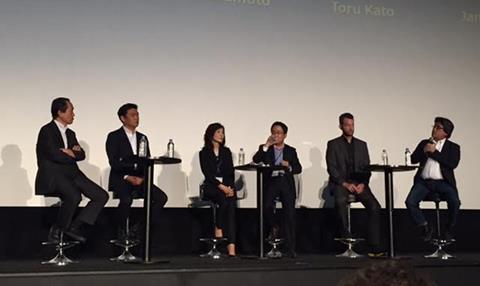 "Early results show heavy engagement with Japanese content, but also really strong engagement with Hollywood content among original series, which to date haven't had awareness and exposure in the market," said Lee, speaking at the JETRO Business Seminar on the first day of the TIFFCOM contents market (October 20-22).
"Daredevil has not been heavily marketed in Japan, but it's among our top shows, which we're very happy to see."
Lee's comments contradict a recent study by Parrot Analytics that suggested interest in Netflix originals such as House Of Cards and Orange Is The New Black is weak in Japan, compared to other markets. But its difficult to verify either position as Netflix, which launched in Japan in early September, doesn't break out figures for individual territories or shows.
However, Lee did break down Netflix's Japanese subscribers into two camps: "There's the population of early adopters that love US content and are gravitating towards Daredevil and Orange Is The New Black – its an easy sell to that crowd," Lee said.
"The challenge is around the mass market – consumers who are familiar with Japanese content and watch [free-to-air broadcasters] Fuji TV and Asahi. So that subscriber base is engaging with local content in a strong way. Our first two originals with Fuji TV are doing well for us."
Lee also spoke about widening the international market for Japanese content by carrying its local originals and acquisitions across all the territories it operates in. "There are clear and less clear opportunities – anime is a clear one as it has a passionate fanbase in almost every corner of the world," Lee said.
He added that Japanese TV drama falls into the less clear category, as it hasn't travelled outside Asia in the past. "But there is no logical reason why it shouldn't – if French and Nordic TV drama can travel, there is no reason why Japanese drama can't work in other countries. We're excited to find this out over time."
SVOD growing with local content
In the second part of the panel, Netflix's competitors in Japan outlined their strategies and discussed how the market is evolving.
Amazon, which launched its SVOD service Prime Video in Japan last month, said it had around 70% local content at launch, including 200 concerts from girl group AKB48 and new episodes of TV Asahi's variety show Summers.
"On the film side we've seen strong interest in Japanese independent film," said Amazon Japan content chief James Farrell. "Of course we also want big Japanese and US blockbusters, but we're finding there is an audience for a wide range of films."
Toru Kato, president of streaming platform Bonobo, formed by a consortium of Japanese content owners, explained how the service is attempting to increase the market for transactional video-on-demand (TVOD) in Japan, which has traditionally been weak. "We want to collaborate with all media across the value chain – theatres, DVD distributors, broadcasters – we're not trying to lure customers but are trying to expand the entire market," Kato said.
Avex, which operates the dTV streaming service, said that 70% of its customers access the service through smartphones, rather than laptops. "When family members are watching TV, younger viewers are watching content on their smartphones, before they go to bed, or while they're commuting," explained Avex's Rieko Muramoto.
However, services with different business models are accessed on different devices. Naohito Miyamoto, CEO of Yahoo Japan's ad-supported streaming service Gyao, said daytime viewing was strongest on laptops, especially around lunchtime and early evenings, while smartphone usage kicked in around 10.30-11.30pm.
All the local services agreed that Japanese audiences are not very good at making selections of what to watch. "We only have six TV channels, while America has 200 channels, so Japanese viewers are not good at choosing and hate to have contents pushed on to them," said Hulu Japan managing director Masashi Funakoshi. "They're not good at finding things randomly, so we can improve the recommendation engines, but that's not going to be the final solution."
TIFFCOM continues tomorrow (October 21) with sessions on music streaming in Japan, exporting anime and character products, an India-Japan business-matching event and a session on Japan-China co-productions.