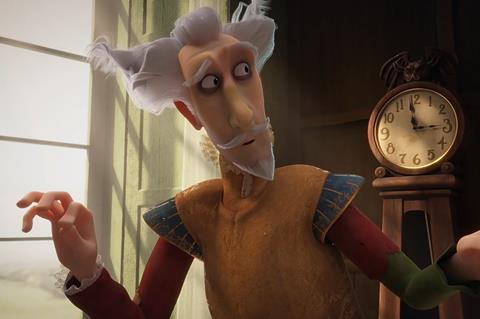 Cinema Management Group said on Thursday (May 7) that Asia-based Toonz Media Group has joined The Canterville Ghost as co-producer.
Robert Chandler's Space Age Films and Gina Carter and Stephen Fry's Sprout Pictures are already on board as animators on the Oscar Wilde Classic, which CMG handles for sales.
Fry is joined on the voice cast by Freddie Highmore, Imelda Staunton, and Toby Jones.
The producers, assisted by Paul Grindey of Viewfinder Film, signed the deal with Toonz. Animation production on the feature film is taking place at its studios in India, while pre-production and post-production will take place in the UK and Ireland.
Kim Burdon directs the story about a ghost, Sir Simon, who is has been haunting his ancestral home, Canterville Chase, for more than 300 years.
His blissful activity is disrupted when an American family moves into the estate and does not appear to be scared by the apparation.
CMG president Edward Noeltner and Kristina Dubin of DubinMedia, who were instrumental in brokering the deal with Toonz, said in a joint statement: "Toonz coming on board this high-quality animated feature was the final piece in giving The Canterville Ghost the required momentum to fly into production. The film is targeted for delivery in 2021."
CMG has pre-sold the film in a number of international territories including German-speaking Europe (Palatin), Russia and CIS (Volga), Poland (Kino Swiat) as well as other Eastern European territories including the Middle East (Front Row) and Israel (Film House).