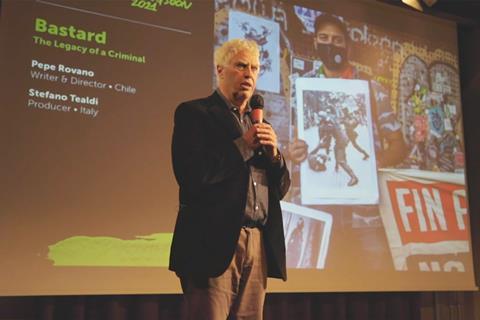 Eight projects have been pitched to international festival directors, sales agents, distributors and producers during the Coming Soon night at TorinoFilmLab's (TFL) 2021 Meeting Event this week.
The films are all at the final stages of production and have either been developed through one of the TorinoFilmLab's programmes or been the recipients of one of TFL's awards.
The event was held in-person at the Scuola Holden school in Turin.
Previous Coming Soon selections of recent years have included Carlo Francisco Manatad's Whether The Weather Is Fine (Featurelab 2017), premiered at Locarno this year; Kavich Neang's White Building (Audience Design Fund 2020) which went on to win the best actor prize in 2021 Venice's Horizons; and Magnus von Horn's Sweat (Scriptlab 2017), which was part of the Cannes 2020 selection.
Screen gets the lowdown on this year's eight projects, as pitched by the filmmakers.
Autobiography (Indo-Sing-Ger-Fr-Pol-Phil)
A timid housekeeper determines to obey his master until things turn violent.
Director: Makbul Mubarak
Producers: KawanKawan Media, Focused, Protocol, Niko Film, In Vivo Films, Staron Films, Cinematografica
Story so far: This is Mubarak's debut film after his short The Malediction played at Asian and European festivals receiving a special mention at Singapore's International Film Festival. The project participated in TFL's 2016 Featurelab.
Will be ready: February 2022
Looking for: Sales agents, distributors, buyers
A Male (Col-Fr-Ger-Neth)
Carlos faces a rite of passage to become a man, amid the threatening men in his environment where there's no room for fragility.
Director: Fabian Hernandez
Producers: Medio de Contenciòn Producciones, In Vivo Films, Black Forest films, Fortuna Films
Story So Far: A Male is Hernandez's feature debut following several short films. The film was shot in Bogotà between March and April 2021 and was developed through TFL's co-production fund in 2019
Looking for: Festivals and sales agents
Bastard (Chile-It-Swe)
A director travels to talk to the daughters and sons of victims and abusers of the Pinochet regime
Director: Pepe Rovano
Producers: Totoral Films & Media Lab, Stefilm International, Laika Film & Television
Story so far: The story of Bastard reflects that of the director who discovered his father had murdered several activists during the Pinochet regime. He tried to talk about this with his father with little success and so decided to meet with the daughters and sons of those murdered activists and the ones of other human rights' violators. The film won TFL's Audience Design Fund in 2021.
Will be ready: The film is now at its second rough cut and will be ready in March.
Looking for: Sales agents, distributors and festivals
Lily And The Dragonflies (Braz)
A young Black girl, survivor of transmisogyny has to deal with crack addicts while struggling to stay on her boyfriend's side.
Director: René Guerra
Producers: Preta Porté Filmes, Klaxon
Story so far: Apart from being a director Guerra is an LGBTQIA+ advocate and acting coach. He is now working on the post production of two feature projects, Serial Kelly and Lily And The Dragonflies which participated at the Featurelab in 2013.
Will be ready: Now in post-production
Looking for: Sales agents
Moja Vesna (Slov-Aust)
After her mother's sudden death, Moja becomes the unexpected grown-up of her fragmented family
Director: Sara Kern
Producers: Cvinger Film, Sweetshop & Green
Story so far: Kern and producer Rock Bicek attended the same film school where the latter was struck by Kern's touch with actors. Her short film Good Luck, Orlo! was presented in Venice's Horizons in 2016. Moja Vesna was developed through TorinoFilmLab's 2018 Scriptlab, TIFF's 2017 Talent Lab and Cannes Cinefondation Residency in 2018.
Will be ready: February 2022
Looking for: Sales agents
Runner (Ger-Fr-US)
After the death of her father, Haas meets Will. A story of two strangers finding, changing and leaving one another.
Director: Marian Mathias
Producers: Killjoy Films, Easy Riders, Man Alive
Story so far: This is Mathias debut feature. Her previous short film, Give Up The Ghost, was presented in Cannes, while Runner has been developed through the Cinefondation residency, TorinoFilmLab's 2019 co-production fund and the Venice Gap Financing Market.
Wil be ready: Beginning of April 2022
Looking for: Sales agents, distributors and festivals
Daughter Of Rage (Nic-Mex-Neth-Fr-Ger-Nor-Sp)
Eleven-year-old Maria gets left behind by her desperate mother in a recycling factory and has to learn to survive.
Director: Laura Baumeister
Producers: Felipa Films, Martfilms, HALAL, Promenades Films, Heimatfilm, Dag Hoel Filmproduksjon, Cardon Pictures, Nephilim Producciones
Story so far: This is the fifth feature film to ever come out of Nicaragua. Baumeister's previous short film was presented in Cannes' Critics' Week. Daughter Of Rage won the TFL Audience Design Fund in 2021
Will be ready: February 2022
Looking for: Sales and distribution partners
TorinoFilmLab is running as a hybrid event from November 29 – December 10.