EXCLUSIVE: Film captures lives of young Palestinians living in Tel Aviv.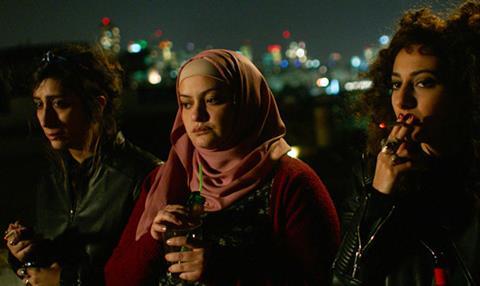 Paris-based Alma Cinema has picked up sales on Palestinian director Maysaloun Hamoud's debut feature In Between (Bar Bahar) ahead of its world premiere at Toronto International Film Festival (Sept 8-18) on Sept 11.
The film follows a group of young Palestinians, hailing from Arab towns and villages lying within Israeli borders, living in Tel Aviv.
At the heart of the story are party animals Leila and Salma whose hedonistic lifestyles are disrupted by the arrival of family friend Noor, a devout Muslim girl from the Arab town of Umm al-Fahm.
Alma head of sales and acquisitions Sara May described the work as an unprecedented portrait of the challenges and contradictions facing young Palestinian women born and living in Israel.
"Maysaloun deals with the subject in a very subtle, entertaining way. It's fun. I think it could be a real crowd-pleaser," said May.
In Between will premiere next week in TIFF's Contemporary World Cinema section before heading to San Sebastian's to screen in the New Directors line-up.
Israeli filmmaker Shlomi Elkabetz – who was at Toronto in 2014 with Gett: The Trial Of Viviane Amalem – produced Bar Bahar through his Tel Aviv-based production company Deux Beaux Garçons Films (DBG Films) alongside Sandrine Brauer of Paris-based En Compagnie Des Lamas.
First sales on Sundance hit As You Are
Alma Cinema officially launched in May as a joint venture between Oscar-nominated producer Charles Gillibert (Mustang) and French distributor Ad Vitam.
The partners hired experienced sales and acquisition executive Sara May, formerly of TF1 and Embankment Films, to head up the new structure.
May's first acquisition was US director Miles Joris Peyrafitte's drama As You Are, which she picked up after its well-received premiere at Sundance.
The 1990s-set feature about two young misfits who form a bond after their single parents get together will get its international premiere in competition at San Sebastian.
"The film hasn't really been shown or talked about since Sundance, so this is really the beginning of its international career," said May.
She has already secured a handful of lucrative deals on the title, including to Cinesky Pictures for airlines and Korean distributor Mirovision for Asia.
"Mirovision usually focuses only on Korea but they believed in the film's potential so much they took it for the whole of region and are coordinating its release with local distributors territory by territory," said May.
Ad Vitam has picked up French rights and Brazilian and Spanish deals are underway.
WME and the film's producers are planning a platform release in the US for late November, early December.
Growing slate
At Toronto, May will also be working on financing for big budget documentary Witness about celebrated US photojournalist James Nachtwey, exploring the stories behind his iconic images.
Swedish filmmaker Thomas Nordanstad is set to direct and award-winning cinematographer Lars Skree, best known for The Look Of Silence and Armadillo, is also attached. It will go into production in November.
Paris-based companies Elephant Doc and Petit Dragon are developing the production with the support of Canal+.
"One of Alma's mandates is to package and I'll be looking for financiers and co-producers on this one," said May.
Other titles
Further new titles on Alma's growing slate include French filmmaker Emmanuelle Cuau's drama Not On My Watch, starring Virginie Efira as a single mother who becomes entangled in a web of lies and crime to protect one of her sons.
Alma is also selling Italian director Irene Dionisio's debut feature and Venice Critics Week title Pawn Street capturing a trio of contemporary tales linked by a pawnshop in the northern Italian city of Turin.