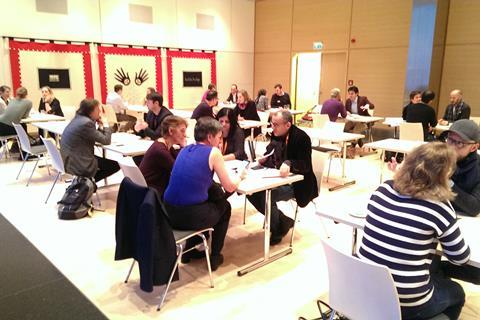 Film and TV drama co-production training and networking programme Trans-Atlantic Partners (TAP) has revealed its 2018 line-up of 25 producers from across Europe, Canada, the USA and India.
TAP, which celebrates its 10th anniversary this year, provides case studies of trans-Atlantic projects, market intelligence, legal advice and information on sales and distribution. The programme is directed at producers at career mid-level who have produced at least one feature film or TV series.
It includes two training modules in Berlin (June 16 – 21) and Halifax, Canada (September 10– 16), where TAP producers will also participate as full delegates at the FIN Film Festival's FIN Partners international co-production market.
Previous alumni include Guneet Monga (The Lunchbox), Peter Bouckaert (Bullhead), Marc-Daniel Dichant (In Darkness), Damon D'Oliveira (The Book of Negroes) and Michael Frislev (Fargo).
The initiative is presented by Germany's Erich Pommer Institut (EPI) with the Canadian Media Producers Association (CMPA) and supported by the Creative Europe – MEDIA Programme of the European Union and Telefilm Canada.
TAP Director, Jan Miller said: "In times of ongoing disruptive change within the industry, it is even more essential to bring together producers from across the globe to facilitate their move into international co-production. Offering top trainers and experts from the industry who candidly share their knowledge and expertise has alwaysbeen one of TAP's key goals. Reviewing this year's line-up, experts and TAP producers are in for a banner year of potential co-production."
Full list of participants:
EUROPE
Antra Cilinska, Juris Podnieks Studio, Producer, Latvia | Producer, Golf Stream under the Iceberg 2012, Co-Producer, Two Women 2014
Ashley Horner, Pinball Films, Producer, Director, UK | Producer, Director, The Orgasm Diaries (aka brilliantlove) 2010 (Tribeca 2010, Edinburgh; Sao Paolo, Athens IFF, BIFA nominee), Producer, Objects Attack! 2014 (Winner - Harlem International Film Festival, SF Indiefest, Super 8mm Film Festival)
Aleksi Hyvärinen, Don Films, Producer, Finland | Producer, Co-Writer, Lake Bodom 2016 (Finnish Film Affair, BFI London Film Festival, Sitges Film Festival), Co-Producer, Arhythmia 2017 (28th Open Russian Film Festival, Toronto International Film Festival)
Sinisa Juricic, Nukleus Film, Producer, Croatia |Producer, Houston, We Have a Problem! 2016 (Tribeca, Karlovy International Film Festival, Pula Film Festival), Producer, A Good Wife 2016 (Sundance Film Festival, Göteborg Film Festival, FEST – Belgrade International Film Festival)
Milena Klemke, Weydemann Bros., Producer, Germany | Producer, The Hannas 2016 (Filmfest Munich, Filmz Mainz, Biberacher Filmfestspiele), Producer, Freedom 2017 (Festival del Fil Locarno, Valladolid International Film Festival, Warsaw Film Festival)
Steven Little, Blazing Griffin, Producer, UK | Co-Producer, Anna and the Apocalypse 2018 (Fantastic Fest, Sitges), Producer, Matriarch 2018
Kjetil Omberg, 74 Entertainment, Producer, Norway | Producer, Dead Snow - Red vs. Dead 2014, Executive Producer, Pilgrimage 2017 (Tribeca, Nominee IFTA Award)
Merja Ritola, Greenlit Productions Oy, Producer, Finland | Producer, Apeiron 2013
Xavier Rombaut, Bulletproof Cupid, Producer, Belgium | Producer, Past Imperfect 2017 (Cinequest,
Oostend, Aubagne, LA Women Fest), Co-producer, Bloody Marie 2018
Steven Rubinstein Malamud, IJswater Films, Producer, The Netherlands | Producer, In Blue 2017 (Winner Austin IFF Narrative Feature Award, Rome IFF, Cape Town IFF, Goa IFF, Beijing IFF), Co- Producer, Paradise Trips 2015 (Best Cinematography Sopot FF, Flemish Industry Award/2 Ensors Oostende FF, Namur International French FF, Mannheim IFF)
Iuliana Tarnovetchi, Alien Film, Producer, Romania | Producer, Eastern Business 2016 (POFF Tallinn Black Nights International Film Festival, Cairo International Film Festival), Co-Producer, Together For Ever 2015 (Let's CEE Film Festival, Cuenca International Film Festival)
CANADA
Jessica Adams, JA Productions, Producer, Canada | Producer, Astronaut 2018 (Moondance International Film Festival, Rotterdam Co-Producers Lab, IFP No Boarders Select), Producer, The Space Between 2017 (Shanghai International Film Festival, Savannah Film Festival)
Joe Balass, President, Producer, Canada | Producer, Venus 2017 (Festival du nouveau cinema, Alliance of Women Film Journalists, Cinequest)
Adria Budd Johnson, Process Entertainment, Writer, Producer, Canada | Producer, Best Day Ever: Aiden Kesler 1994-2011, 2012, Writer, Reboot S3, 1998 (YTV, Cartoon Network)
Josh Epstein, Motion 58 Entertainment, Writer, Producer, Canada | Producer, Co-Writer, Eadweard 2015 (Sehnsüchte International Film Festival, Nashville Film Festival), Producer, Co-Writer, Adventures in Public School 2018 (TIFF, Fernie Film Festival)
Galen Fletcher, Curiosity Pictures, Producer, Canada | Producer, No Men Beyond This point 2015 (International Film Festival Rotterdam, Toronto International Film Festival), Producer, Camera Shy 2012 (Vancouver International Film Festival, Leo Award)
Walter Forsyth, Gorgeous Mistake Productions, Writer, Producer, Director, Canada | Producer, The Disappeared 2012 (Vancouver Int. Film Fest, Canadian Film Fest, Atlantic Film Fest)
Jennifer Mesich, White Eagle Entertainment, Producer, Canada | Producer, Eating Buccaneers 2009 (Chicago Just for Laughs Film Festival, Newport Beach Film Festival, Cinefest Sudbury International Film Festival)
Stephanie Ouaknine, Shaftesbury, Producer, Canada | Producer, Carmilla 2017 (BFI Flare, Five Continents, ClexaCon Film Festival)
USA
Rob Cristiano, Inside Voices, Producer, USA | Co-Producer, The Miseducation of Cameron Post 2018 (Sundance - Grand Jury Prize) Co-Producer, Keep the Change 2018 (Tribeca FF - Best US Narrative, Karlovy Vary IFF), Producer, Bob and the Trees 2015 (Sundance, Karlovy Vary - Grand Jury Prize)
Shruti Ganguly, honto88, Producer, Director, USA | Producer, H. 2015 (Venice Biennale, Sundance Film Festival), Producer, Yosemite 2015 (Slamdance, Nashville, Sarasota Film Festival)
Lisa Kors, Hippie Chick Flix, Producer, Director, Writer, USA | Writer, Director, Producer, Dinner and a Movie 2001 (Slamdunk Film Festival, Cinequest, London Film Festival)
Simone Ling, Sam Pictures, Producer, Story Analyst, USA |Executive Producer, Mosquita y Mari 2012 (Sundance, Sao Paolo, San Francisco IFF), They 2017 (Cannes, Torino, Chicago IFF)
Simon Taufique, Orchestrated Pictures, Producer, USA | Producer, Imperium 2016 (Zurich Film Festival, Deauville American Film Festival), Co-Producer, She's Lost Control 2014 (Berlinale, Film Independent Spirit Awards)
INTERNATIONAL
Deepak Kumar, Deepak Kumar Films, Producer, India | Producer, Agam 2018 (Cairo International Film Festival, Zanzibar International Film Festival, Dhaka International Film Festival), Producer, Pimpal 2018 (International Film Festival of India, Pune International Film Festival, Moscow International Film Festival)