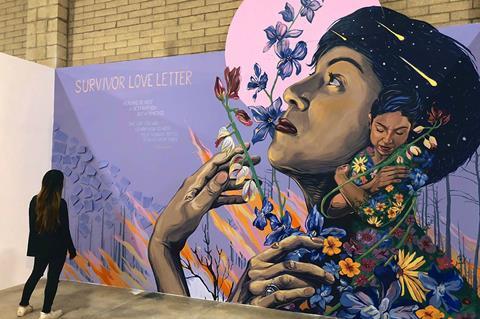 The Tribeca Film Institute (TFI) and Pond5 are launching a filmmaking fund to support sustainable careers for filmmakers and have announced the first six grantees.
The programme is funded by tax-deductable donations and artists will be able to apply for micro-grants three times a year. Pond5, which describes itself as the world's largest stock video marketplace, will match donations.
The grants will address the needs of artists who lack resources during what the partners called "in-between" phases, including research, creative collaboration, festival travel, content, community screenings, outside-the-box mentorship, and extra release support.
TFI executive director Amy Hobby, said, "We have assessed that there is a period of time in a project cycle when filmmakers need support not only financially, but also from peers and veterans of the industry. Partnering with Pond5, we've been able to create a very flexible fund and program that can meet those needs."
Pond5 CEO Jason Teichman added, "Pond5 prides itself on being the world's most filmmaker-friendly creative marketplace. Helping filmmakers succeed in their craft is what we're all about. As filmmakers ourselves, we know how hard it can be to secure the finances, resources, and footage necessary to tell your story. If we can play a small role in helping filmmakers tell an even better story, we feel like we've done our job.
TFI and Pond5 put on a network event that allowed the filmmakers hands-on experience and announced the following six grantees. All synopses provided by TFI:
499 Años (499 Years)
Dir: Rodrigo Reyes
Prd: Inti Cordera; co-pdr: Andrew Houchens.
499 Years examines the brutal legacy of colonialism nearly five centuries after Cortez arrived in the Aztec Empire. Bold, unique, and strikingly cinematic, the film uses magical realism, combining documentary and fiction to show how past traumas continue to affect contemporary reality while challenging us to overcome our histories of violence.
Death Of Nintendo
Dir: Raya Martin
Wrtr: Valerie Castillo Martinez
Pdr: Jeremy Chua, Nikolo Juban, and Valerie Castillo Martinez: EP: Whitaker Lader.
Set in 90's suburban Manila, the story takes us into the colorful pop-culture world of four 13-year old friends, back in the days when videogames were still a novelty. Mimaw and her friends Paolo, Kachi, and Gilligan go on a journey of self-discovery together as they play games and wrestle with new dilemmas – puppy love, circumcision and other horror stories.
A Hole To Hell
Dirs: Pawel Nazaruk and Tomasz Adamski
Prd: Pawel Nazaruk.
The Cold War race to dig the deepest into the Earth reveals an entrance to Hell in arctic Russia. Forty years later, Yuri Smirnoff is the last man standing.
No Fault
Dir: Myna Joseph
Pdr: Amy Lo, Lucy Owen, and Lizzie Shapiro; EP: Lana Yang.
Following a near-fatal car accident, Lu wrestles with creeping invisibility as she approaches the second half of her life. On this long winter day, she finds her physical identity fractured, ignored, misunderstood, and judged – but with wry humor and stubborn resilience, she's determined to be seen.
Solace
Dir: Tchaiko Omawale
Pdr: Hope Olaide Wilson, Maya Emelle, Sophia Solomon; co-pdrs: Sabine Hoffman, Sascha Brown Rice.
A 17year-old orphan is shipped off to her estranged grandmother and she plots her escape while navigating a foreign environment, new friendships and a hidden eating disorder.
Survivor Love Letter (pictured)
Lead artist and EP: Tani Ikeda
Lead artist and creative directed by Jess X. Snow
Additional lead art: Layqa Nuna Yawar
Pdr: Kevin Tsukii.
Through a network of augmented reality murals centering Survivors of sexual assault, Survivor Love Letter presents a galaxy where survivors are not only believed and supported, but also loved unconditionally. Using our AR app, users can watch the mural and the love letter come to life through animation and read a library of love letters from survivors and allies all over the world, and ultimately have the option to add to the galaxy by writing their own.