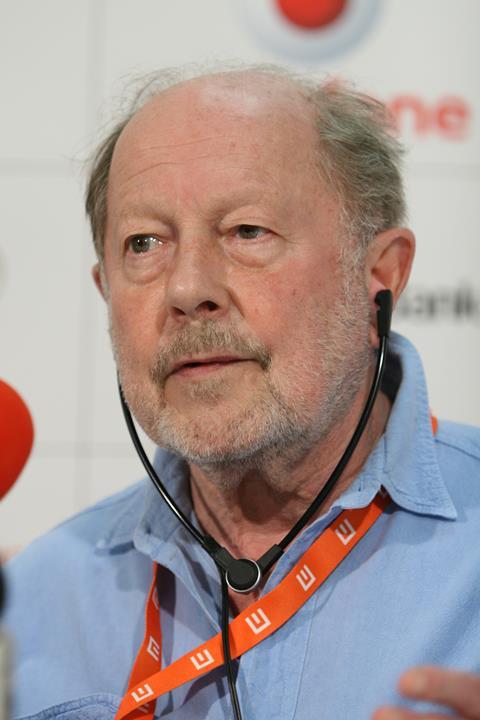 Nicolas Roeg, director of Don't Look Now, The Man Who Fell To Earth and The Witches, has died aged 90.
His son, Nicolas Roeg Jr, told the BBC that he passed away yesterday (23 November).
Roeg was born in north London in 1928, beginning his career at Marylebone Studios.
After working as a cinematographer he made his directing debut (alongside Donald Cammell) with the controversial 1970 film Performance starring Mick Jagger, which was delayed for two years bacsue of its sexual content and violence.
His first solo outing was 1971's Walkabout, which played in competition at Cannes, followed by classic 1973 psychological thriller Don't Look Now, starring Julie Christie and Donald Sutherland.
Among his later films were 1976 sci-fi The Man Who Fell To Earth, starring David Bowie, and terrifying 1990 Roald Dahl adaptation The Witches.
Tributes
Since his death was announce, tributes have poured in for Roeg on social media.
Alfonso Cuaron
"Farewell Nicolas Roeg, your fragmented view of the human experience will accompany us for as long as Cinema exists."
Edgar Wright
"Farewell to the extraordinary cinematic talent, director Nicolas Roeg. His films hypnotized me for years and still continue to intrigue. Along with classics like Performance & Walkabout, I could watch Don't Look Now on a loop & never tire of its intricacies. A master of the art."
Asif Kapadia
"Legendary inspirational director Nic Roeg rest in a complex structural time travelling visually stunning cinematic peace."
Nicolas Winding Refn
"Good buy Nicolas Roeg … you were one of the greats… only a few years ago you told me a story of when David Lean asked you if you thought he was "old fashion" - you took a beat and replayed "yes"…❤️"
Brad Bird
"Nicholas Roeg, first as a Cinematographer, then as a Director, saw cinema through a very unique pair of eyes. WALKABOUT, DON'T LOOK NOW, THE MAN WHO FELL TO EARTH, INSIGNIFICANCE, THE WITCHES. May the work live on. And the man… Rest In Peace."
Jon Ronson
"So many great Nic Roeg moments. His images are many of my best childhood and teen memories. He really was one of the greats and made growing up better."
The BFI
"RIP to Nicolas Roeg, a pioneering force of cinema who created some of the most affecting moments of beauty, terror and sadness ever seen. A true great if ever there was one."
Duncan Jones
"Just heard another great storyteller, the inimitable Nicolas Roeg left us today. What an incredible body of work he's left us with. All my love to his family. hank you for making so many brave choices, & giving this strange little lad in pajamas an ongoing love of filmmaking."
Mark Cousins
"Stop the clocks. Thank you for expanding the movies, Nic Roeg."
Bafta
"We are deeply saddened by the passing of the Bafta-winning director Nicolas Roeg, best known for The Man Who Fell To Earth and Don't Look Now. Nicolas received a Bafta Special Award for Outstanding Creative Contribution to Cinema in 2009"
Joe Dante
"RIP Nicolas Roeg. I followed his career first for his photographic style, later for his fascinating choice of subject matter. WALKABOUT is a near perfect tone poem, the restored THE MAN WHO FELL TO EARTH is one of the greatest sci-fi movies ever."
Torronto Film Festival Director artistic director Cameron Bailey
"Saw this [his 1980 film Bad Timing) at just the right, unformed time in my life. Messed me up, sent me searching for more. R.I.P. Nicolas Roeg."