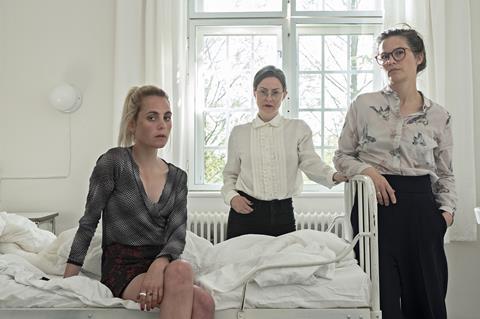 Trine Dyrholm (In A Better World, The Legacy) has joined the cast of Danish director Marie Grahtø's debut feature Teenage Jesus, which started shooting last week.
The drama is set in a psych ward. The cast is led by Lisa Carlehed (In Your Arms) as a perfectionist young psychologist and Victoria Carmen Sonne (Holiday) as her suicidal patient. Through an intense psychological war, the two women form a complicated and intimate bond. Dyrholm plays a fellow doctor.
The film will shoot for six weeks on location at Psychiatric Center Sankt Hans, in Roskilde near Copenhagen.
Producers are Amalie Lyngbo Quist and Julie Friis Walenciak from Denmark's Beo Starling and co-producers are Mark Lwoff and Misha Jaari from Finland's Bufo.
Backers are supported by the Danish Film Institute's New Danish Screen, Finnish Film Foundation and Nordic Film & TV Fond. Development support came from Creative Europe and Nordic Genre Boost (at the Nordic Film & TV Fond).
The project was part of Cannes Atelier last year it was presented at Rotterdam CineMart, Torino Film Lab as well as at Haugesund New Nordic Films where it won the prize for best pitch.
The team has not yet appointed a sales company.
Grahtø said, "Life and Death are forces that pull all human beings apart. We all struggle with these facts. When the audience meet my two main characters - Viktoria and Jenny - they are at the epicenter of this internal war. Through them I am trying to translate my own struggle between the beauty of life and the darkness of depression into cinema."