Disney's live-action remake scores third-biggest second weekend ever with $15.5m (£12.3m).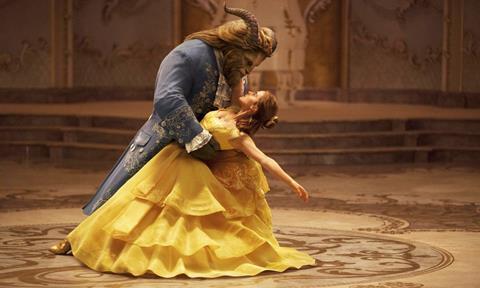 UK TOP FIVE
| Ranking | Film/Distributor | Weekend gross | Running total |
| --- | --- | --- | --- |
| 1 | Beauty And The Beast (Disney) | $15.5m (£12.3m) | $50.1m (£39.85m) |
| 2 | Power Rangers (Lionsgate) | $2m (£1.57m) | $2m (£1.57m) |
| 3 | Get Out (Universal) | $1.72m (£1.36m) | $6.1m (£4.86m) |
| 4 | Kong: Skull Island (WB) | $1.42m (£1.13m) | $16.6m (£13.23m) |
| 5 | Logan (Fox) | $957,000 (£761,662) | $27.5m (£21.91m) |
(Note - Dollar conversions are based on today's rates)
DISNEY
After securing the fifth-biggest opening-week ever with $34.6m (£27.5m), Beauty And The Beast kept waltzing as the UK's number one film.
Disney's live-action remake fell only 38% from its record-breaking opening as it scored the third-biggest second weekend of all time with $15.5m (£12.3m), behind only Skyfall's $20.2m (£16.11m) and Spectre's $16.5m (£13.15m).
And it achieved that feat despite the sunshine.
Beauty And The Beast is now up to a magical $50.1m (£39.85m) after only ten days in play and is already the highest-grossing release of 2017, topping La La Land.
Given how it's gone so far, it's going to take something special to top it.
The film's achievements are even more remarkable given that there has yet to be a school holiday during its run. The upcoming Easter holidays will come in time to give it another boost.
Also for Disney, Moana has hit the £20m mark in its 17th week of release, a result that is more than nine times its opening take.
LIONSGATE
Battling the weather and Beauty And The Beast, Power Rangers charted second on its UK debut.
Lionsgate's reboot fought to a decent $2m (£1.57m) from its 478 sites for a site average of $4,138 (£3,293), the second highest of the week behind Disney's chart-topping mega hit.
It's already director Dean Israelite's best-ever UK performer, ahead of Project Almanac.
UNIVERSAL
Get Out followed up its strong opening with a respectable drop of 37% on its way to a $1.72m (£1.36m) second weekend as it remained in third.
Universal's critically acclaimed horror has amassed $6.1m (£4.86m) after ten days in play and will hope to continue to prosper as the sole major horror outing in the otherwise-crowded market at the moment.
Also for Universal, Sing suffered a major drop with a $37,000 (£29,236) ninth weekend for $35.6m (£28.32m) to date.
WARNER BROS
Kong: Skull Island fell 58% as it dropped to fourth with a $1.42m (£1.13m) third weekend.
Warner Bros' King Kong reboot is now up to a solid $16.6m (£13.23m) and will still hope to hit £15m, despite Beauty And The Beast's current domination of the UK box office.
Also for Warner Bros, CHiPs posted a feeble UK bow of $256,000 (£203,690) from its 299 sites, marking a site average of only $856 (£681), and won't last long at the box office.
The Lego Batman Movie fell a hefty 78% on its way to a $143,000 (£114,000) seventh weekend for a healthy $33.6m (£26.74m) to date.
FOX
Logan fell 57% with a non-final $957,000 (£761,662) fourth weekend as it rounded off this week's top five.
Fox's latest X-Men outing is now up to a strong $27.5m (£21.91m), making it the second-highest-grossing film of the series, behind X-Men: Days Of Future Past's $34.1m (£27.1m).
Also for Fox, Viceroy's House added $134,000 (£106,944) for $4.5m (£3.57m) to date, while Bollywood title Phillauri recorded a UK debut of $118,000 (£93,621) from its 45 sites.
Hidden Figures has accumulated $7.5m (£5.95m) after six weeks in play.
SONY
Life charted outside of the top five with a disappointing UK debut.
Sony's sci-fi launched with $934,000 (£743,129) from its 439 sites for a site average of $2,128 (£1,693), some way short of the distributor's recent original sci-fi Passengers, which landed with $3m (£2.42m) from 569 sites, including $1.53m (£1.22m) in previews.
Given the crowded market and usual fast-burn nature of genre films, Life could struggle to sustain from this weekend.
STUDIOCANAL
The Lost City Of Z was likely affected by the weather as it started its UK run.
Studiocanal's adaptation journeyed to a non-final $338,000 (£268,941) from its 282 sites, marking director James Gray's second best UK debut behind We Own The Night's $555,000 (£441,416) from 264 sites.
Its strong reviews should boost its midweek audience and it will hope to post a sturdy hold this coming weekend.
VERTIGO RELEASING
British war drama Another Mother's Son posted a UK opening of $87,000 (£68,938) from its 106 sites through Vertigo Releasing.
ALTITUDE
Moonlight has crossed the £4m mark in its sixth week of release as Altitude's Oscar winner took an extra $76,000 (£60,324) from its 100 sites for $5.1m (£4.06m) to date.
LIONSGATE/TRAFALGAR RELEASING
In its third week, Lionsgate and Trafalgar Releasing's Elle added $56,000 (£44,932) for $817,000 (£650,368) so far.
CURZON ARTIFICIAL EYE
From its 45 sites, Curzon Artificial Eye's The Salesman grossed a non-final $45,000 (£35,807) for $207,000 (£164,559) to date.
ICON FILM DISTRIBUTION
Falling almost 70% (excluding previews), Icon Film Distribution's Personal Shopper picked up $35,000 (£27,752) from its 54 sites for $265,000 (£210,937) to date.
ARROW FILMS
Including previews, Arrow Films' Aquarius opened with $31,000 (£24,685) from its 16 sites.
SODA PICTURES
Submitted as South Korea's Oscar entry, Soda Pictures' Age Of Shadows uncovered a non-final $17,000 (£13,523) from its 23 sites, including $10,000 (£7.987) in previews, on its UK debut.
PARK CIRCUS
From its eight sites through Park Circus, Sundance 2016 title The Eyes Of My Mother grossed $2,500 (£1,991) on its UK bow, with one site still to report.
UPCOMING RELEASES
This week sees saturation releases for Sony's Smurfs: The Lost Village, Paramount's Ghost In The Shell (opens March 30) and Studiocanal's Free Fire.
Curzon Artificial Eye's Graduation, Signature Entertainment's The Void and Lionsgate's The Autopsy Of Jane Doe are among the films receiving a limited release.