Warner Bros' war epic records fourth straight week as the UK's number one.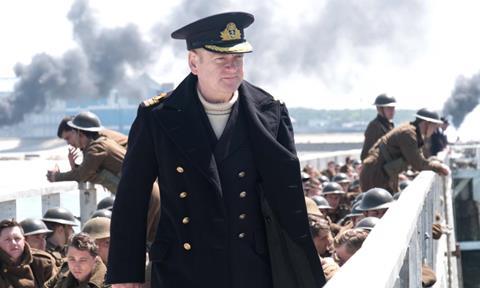 UK TOP FIVE
| Ranking | Film/Distributor | Weekend gross | Running total |
| --- | --- | --- | --- |
| 1 | Dunkirk (WB) | $3.4m (£2.63m) | $58.1m (£44.78m) |
| 2 | Annabelle: Creation (WB) | $2.54m (£1.96m) | $2.54m (£1.96m) |
| 3 | Atomic Blonde (Universal) | $2.19m (£1.69m) | $2.19m (£1.69m) |
| 4 | The Emoji Movie (Sony) | $1.56m (£1.2m) | $7.9m (£6.1m) |
| 5 | Despicable Me 3 (Universal) | $974,000 (£750,317) | $54m (£41.63m) |
(Note - Dollar conversions are based on today's rates)
WARNER BROS
Dunkirk has become the first film since Fantastic Beasts And Where To Find Them to record four straight weeks as the UK's number one.
Warner Bros' war epic fell 43% as it sailed to a $3.4m (£2.63m) fourth weekend for a terrific $58.1m (£44.78m) after 24 days in play, with it becoming the second highest-grossing 2017 release before the weekend.
It will soon overtake The Dark Knight's $63.3m (£48.82m) UK result and should challenge Christopher Nolan's best-ever result, The Dark Knight Rises' $73.1m (£56.3m), by the end of its run.
Also for Warner Bros, Annabelle: Creation was the week's highest new entry as it charted second after it conjured up a sturdy $2.54m (£1.96m) from its 461 sites on its UK debut.
That's on par with Annabelle's $2.52m (£1.94m) bow from 381 sites, but behind both Conjuring outings. Annabelle scared up $9.7m (£7.51m) in the UK and Annabelle: Creation will hope to challenge that, given its better reviews.
The Nut Job 2: Nutty By Nature recorded a poor UK opening of $459,000 (£354,000) from its 507 sites, some way behind the first film's $865,000 (£666,966) debut from 405 sites.
UNIVERSAL
Atomic Blonde had to settle for third despite opening two days ahead of Annabelle: Creation.
Universal's action outing fought to $2.19m (£1.69m) from its 581 sites, including $721,000 (£555,569) in previews. Its Fri-Sun tally of $1.47m (£1.13m) would have seen it chart fourth behind The Emoji Movie, but it has already outgrossed the entire run of John Wick.
Also for Universal, Despicable Me 3 fell only 37% with a $974,000 (£750,317) seventh weekend for an excellent $54m (£41.63m), making it the third highest-grossing 2017 release ahead of Guardians Of The Galaxy Vol. 2.
Girls Trip continued its strong UK run with a slim 28% drop on its way to a $970,000 (£747,591) third weekend for $7.2m (£5.51m) to date.
SONY
The Emoji Movie posted a decent hold in its second weekend, dropping 33% (excluding previews) with $1.56m (£1.2m).
Sony's animation took $2.85m (£2.2m) during its first Mon-Thurs and is now up to $7.9m (£6.1m) in the UK, tracking ahead of The Angry Birds Movie which stood at $5.9m (£4.55m) at the same stage in its run.
Also for Sony, Spider-Man: Homecoming swung to a further $668,000 (£515,000) for $36.6m (£28.2m) to date and will soon overtake Spider-Man's $37.7m (£29.03m) UK result back in 2002.
Baby Driver has now amassed $16m (£12.3m) following a $217,000 (£167,000) seventh weekend, while Maudie has grossed $161,000 (£124,000) after ten days in play.
LIONSGATE
Valerian And The City Of A Thousand Planets dropped a steep 66% (excluding previews) with a $537,000 (£414,000) second weekend.
Lionsgate's release of Luc Besson's ambitious sci-fi is now up to $4.17m (£3.21m) after 12 days in play and could struggle to last much longer in a crowded market.
FOX
In its fifth week, Fox's War For The Planet Of The Apes fell 54% on its way to a non-final $530,000 (£408,249) for $25.2m (£19.41m) to date.
Also for Fox, Captain Underpants posted a $431,000 (£332,062) third weekend for $7.2m (£5.58m) so far, a rare misfire for a DreamWorks Animation outing in the UK.
Diary Of A Wimpy Kid: The Long Haul stands at $7.4m (£5.7m).
DISNEY
Falling 42% in its fifth weekend, Disney's Cars 3 added $359,000 (£276,069) for $12.6m (£9.7m) to date, and will at least cross £10m at the UK box office.
A24/PICTUREHOUSE ENTERTAINMENT
A Ghost Story posted a UK bow of $174,000 (£133,899) from its 89 sites, including $21,000 (£15,859) in previews.
A24/Picturehouse Entertainment's release of director David Lowery's critically acclaimed supernatural drama topped the $68,000 (£52,541) debut of Ain't Them Bodies Saints from 49 sites.
STUDIOCANAL
Critically acclaimed comedy The Big Sick posted a $168,000 (£129,660) third weekend for $1.83m (£1.41m) to date through Studiocanal.
TRINITY FILMS/CMC PICTURES
Rising 14% in its second weekend, Trinity Films and CMC Pictures' Chinese box office smash Wolf Warrior 2 grossed $35,000 (£27,000) from its 14 sites for $87,000 (£67,000) to date.
PECCADILLO PICTURES
From its 14 sites through Peccadillo Pictures, Tom Of Finland posted a UK debut of $22,000 (£16,670), including previews.
UPCOMING RELEASES
This week sees saturation releases for Sony's The Dark Tower, Lionsgate's The Hitman's Bodyguard, Paramount's An Inconvenient Sequel and Warner Bros' Everything, Everything.
Altitude's The Odyssey, Vertigo Releasing's Final Portrait and Dogwoof's Quest are among the films receiving a limited release.