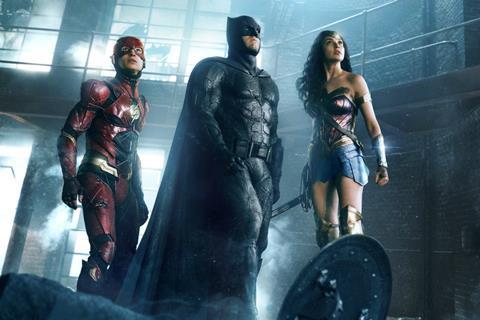 (Note - Dollar conversions are based on today's rates)
UK TOP FIVE
| Ranking | Film/Distributor | Weekend gross | Running total |
| --- | --- | --- | --- |
| 1 | Justice League (WB) | $9.6m (£7.26m) | $9.6m (£7.26m) |
| 2 | Paddington 2 (Studiocanal) | $8.8m (£6.61m) | $22.4m (£16.89m) |
| 3 | Murder On The Orient Express (Fox) | $3m (£2.27m) | $23.5m (£17.75m) |
| 4 | Thor: Ragnarok (Disney) | $1.55m (£1.18m) | $37.5m (£28.25m) |
| 5 | A Bad Moms Christmas (STXinternational) | $1.01m (£762,357) | $7.7m (£5.81m) |
WARNER BROS
Justice League may have landed the top spot on its UK box office debut, but did so in underwhelming fashion.
Warner Bros' latest DC outing posted an opening of $9.6m (£7.26m) from its 580 sites, only ahead of Wonder Woman's $8.2m (£6.18m) from 599 sites, including $1.6m (£1.22m) in previews, in terms of DCEU movies to date.
Even the critically derided Suicide Squad managed a UK debut of $14.9m (£11.25m) from its 573 sites last year, going on to take $44.6m (£33.6m), with Man Of Steel and Batman V Superman: Dawn Of Justice also surpassing £30m.
Justice League would require some sturdy holds to have a chance of reaching £30m, although it seems unlikely given that sequels like this are usually front-loaded.
For comparison, Avengers Assemble managed a UK opening of $20.9m (£15.78m) from its 524 sites, including $3.4m (£2.55m) in previews, going on to take $68.8m (£51.87m) in the UK.
Also for Warner Bros, The Lego Ninjago Movie has assembled $12.4m (£9.38m) after six weeks in play.
STUDIOCANAL
Paddington 2 fell only 20% from its record-breaking opening with a non-final $8.8m (£6.61m) second weekend.
Studiocanal's critically acclaimed sequel is now up to a strong $22.4m (£16.89m), way ahead of Paddington's $13.7m (£10.33m) tally at the same stage in its run. It would be some drop if the sequel didn't overtake Paddington's $50.3m (£37.9m) result.
Expect Paddington 2 to continue to prosper over the weekends and continue to do good business until Christmas.
FOX
Murder On The Orient Express fell 48% with a non-final $3m (£2.27m) third weekend as it dropped to third.
Fox's Agatha Christie adaptation is now up to a decent $23.5m (£17.75m) following another healthy midweek period, taking $3.3m (£2.5m) across Mon-Thurs and leading the market on every day but Thursday (November 16).
Also for Fox, Kingsman: The Golden Circle has amassed $32.9m (£24.84m).
PARAMOUNT
Ahead of its release on Wednesday (November 20), Paramount's Daddy's Home 2 banked a non-final $2.07m (£1.56m) from its 478 sites over the weekend, although the previews won't officially be counted in the chart.
That's almost on par with Daddy's Home's two-day $2.2m (£1.63m) opening over the Christmas weekend in 2015, with the film enjoying an excellent run to take $22.8m (£17.2m) in the UK.
DISNEY
Thor: Ragnarok fell a steep 62% with the arrival of Justice League with a non-final $1.55m (£1.18m) fourth weekend.
Disney's latest Marvel offering is now up to $37.5m (£28.25m) and will soon overtake Guardians Of The Galaxy's $37.8m (£28.5m) to become the seventh biggest Marvel movie in the UK.
Spider-Man: Homecoming's $40.2m (£30.3m) will be next in its sights once it becomes the eighth 2017 release to hit £30m.
STXinternational
A Bad Moms Christmas fell 40% on its way to a $1.01m (£762,357) third weekend as it dropped to fifth.
STXinternational's comedy sequel is now up to $7.7m (£5.81m) and will need to fight off Daddy's Home 2 in order to surpass Bad Moms' $11.4m (£8.6m) final UK result.
LIONSGATE
Including $28,000 (£21,204) in previews, Lionsgate's Film Stars Don't Die In Liverpool opened with $310,000 (£234,051) from its 150 sites, marking a site average of $2,069 (£1,560).
Also for Lionsgate, Jigsaw sliced to a further $140,000 (£105,861) for $6.4m (£4.85m) to date, and is now in danger of finishing its run as the lowest-grossing outing of the series.
My Little Pony and Only The Brave stand at $4.65m (£3.51m) and $627,000 (£472,710), respectively.
EONE
In its fifth weekend, eOne's The Death Of Stalin added $148,000 (£111,743) for $6.1m (£4.57m) to date.
ALTITUDE
Falling 38% (excluding previews), Altitude's The Florida Project recorded a non-final $137,000 (£103,014) second weekend for $610,000 (£459,999) to date.
Also for Altitude, Loving Vincent continued its good run by dropping only 4% with $27,000 (£20,568) for $1.08m (£814,047) so far.
UNIVERSAL
Ingrid Goes West disappointed with a UK bow of $104,000 (£78,329) from its 162 sites, including previews, through Universal, marking a site average of only $641 (£484).
SONY
Nearing the end of its UK run, Sony's Blade Runner 2049 stands at $24.9m (£18.8m) and will narrowly miss out on £20m.
CURZON ARTIFICIAL EYE
Including previews, Curzon Artificial Eye's Good Time recorded a UK bow of $45,000 (£34,046) from its 14 sites.
Also for Curzon Artificial Eye, The Killing Of A Sacred Deer has grossed $903,000 (£680,593) after three weeks in play.
MUNRO FILMS
From its three screens through Munro Films, Trophy posted a UK debut of $1,100 (£843).
UPCOMING RELEASES
This week sees saturation releases for Paramount's Daddy's Home 2 (opens November 22), Fox's Battle Of The Sexes and eOne's Suburbicon.
Sony's The Star receives a wide release, while Peccadillo Pictures' Beach Rats, Dogwoof's Jane and Arrow Films' Lost In Paris are among the films receiving a limited release.