Fox's latest X-Men offering scores second biggest debut of the franchise with non-final $11.6m (£9.43m).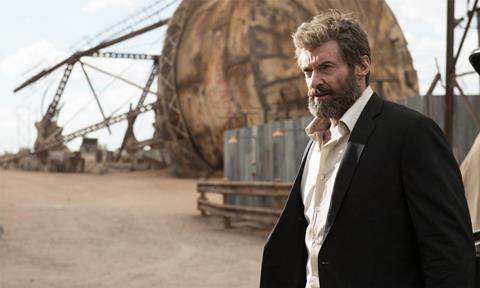 UK TOP FIVE
| Ranking | Film/Distributor | Weekend gross | Running total |
| --- | --- | --- | --- |
| 1 | Logan (Fox) | $11.6m (£9.43m) | $11.6m (£9.43m) |
| 2 | The Lego Batman Movie (WB) | $1.87m (£1.52m) | $30.6m (£24.95m) |
| 3 | Viceroy's House (Fox/Pathe) | $1.12m (£916,134) | $1.12m (£916,134) |
| 4 | Sing (Universal) | $978,000 (£797,924) | $33.7m (£27.48m) |
| 5 | Moonlight (Altitude) | $891,000 (£727,000) | $3.04m (£2.48m) |
(Note - Dollar conversions are based on today's rates)
FOX
Following a strong critical response, Logan has clawed away all competition to debut top of the UK box office.
Fox's latest X-Men offering scored an excellent non-final $11.6m (£9.43m) bow from its 603 sites, including around $3.1m (£2.5m) in previews. Its Fri-Sun tally of $8.5m (£6.9m) would have also comfortably seen it land top spot.
The opening marks the second-biggest overall debut of the Fox Marvel offerings, ahead of X-Men: Days Of Future Past's $11.2m (£9.14m) from 537 sites, which included $1.96m (£1.6m) in previews.
In the Fox Marvel pantheon the only film to open better is Deadpool which started out with $16.8m (£13.73m) from 543 sites, including $4.6m (£3.76m) in previews, on its way to $46.5m (£37.9m) in the UK.
Also for Fox, Pathe's Viceroy's House charted third with a so-so $1.12m (£916,134) debut from its 455 sites, which marks director Gurinder Chadha's fourth-best UK bow narrowly behind Angus, Thongs And Perfect Snogging.
Viceroy's House will hope to enjoy decent midweek returns given its older-skewing audience but it will need to hold off competition from resurgent Oscar winners.
Hidden Figures and A Cure For Wellness stand at $5.6m (£4.57m) and $864,000 (£705,076), respectively.
WARNER BROS
Dethroned after three weeks as the UK's number one, The Lego Batman Movie fell 48% with a $1.87m (£1.52m) fourth weekend.
Warner Bros' animation has now built up an excellent $30.6m (£24.95m) to date and, like Sing, needs to make the most of the next fortnight before Beauty And The Beast arrives on March 17.
Also for Warner Bros, John Wick: Chapter 2 shot to a further $535,000 (£436,000) for $6.6m (£5.37m) after three weeks in play, while Fist Fight missed its target with an uninspiring $487,000 (£497,000) UK debut from its 393 sites.
UNIVERSAL
Sing fell 46% on its way to a $978,000 (£797,924) sixth weekend as it dropped to fourth.
Universal's latest Illumination Entertainment hit has now amassed $33.7m (£27.48m) in the UK and should still hit £30m, although it won't catch The Secret Life Of Pets which took $44.6m (£36.4m).
Also for Universal, Fifty Shades Darker fell 53% with an $869,000 (£708,785) fourth weekend for $26.9m (£21.93m) to date, making it the fourth-biggest 18-rated film of all time in the UK.
It will overtake Gone Girl ($27.6m/£22.5m) and The Wolf Of Wall Street ($27.7m/£22.6m) to become the second biggest 18-rated feature by the end of its run.
The Great Wall and Split have grossed $5.2m (£4.24m) and $13.7m (£11.18m), respectively.
ALTITUDE
Following its dramatic Best Picture win, Moonlight boosted 85% with a non-final $891,000 (£727,000) third weekend from its 322 reported sites so far.
Altitude's drama is now up to a strong $3.04m (£2.48m) and, impressively, its site average of $2,608 (£2,127) remained around the same as last week, despite the film almost doubling its sites.
The result puts Moonlight into the UK's top five for the first time.
ENTERTAINMENT
Despite missing out at the Oscars, Lion continued its outstanding UK run by dropping only 24% with a $646,000 (£527,572) seventh weekend.
Entertainment's real-life drama has now journeyed to $12.5m (£10.22m) making it the second highest-grossing Best Picture 2017 nominee in the UK, as well as meaning it's now grossed more than eight times its $1.56m (£1.27m) opening.
LIONSGATE
Following its Oscar wins, Lionsgate's La La Land dropped 40% with a $356,000 (£290,000) eighth weekend for a dazzling $36.6m (£29.81m) to date.
Also for Lionsgate, Patriots Day dropped 65% (excluding previews) in its second weekend, taking $318,000 (£259,000) for $1.83m (£1.49m) so far, while Hacksaw Ridge has now fought to $6.72m (£5.48m).
Trespass Against Us recorded a very soft $40,000 (£33,000) from its 87 sites.
PARAMOUNT
In its fourth week, Paramount's Fences added a non-final $163,000 (£132,912) from its 278 sites for $1.9m (£1.55m) to date.
PARK CIRCUS
Certain Women scored director Kelly Reichardt's best-ever UK opening.
Park Circus' LFF 2016 winner grossed $60,000 (£48,922) from its 25 sites, topping Meek's Cutoff bow of $34,000 (£27,603) from 17 sites.
ARROW FILMS
Released in four sites through Arrow Films, Headshot posted a UK debut of $2,800 (£2,246), including previews.
UPCOMING RELEASES
This week sees a saturation release for Warner Bros' Kong: Skull Island (opens March 9) and a wide release for Vertigo Releasing's The Time Of Their Lives.
Trafalgar Releasing's (Lyn Goleby's newly launched outfit) Elle, Studiocanal's The Chamber, Dogwoof's Dancer and Icon Film Distribution's The Love Witch are among the films receiving a limited release.