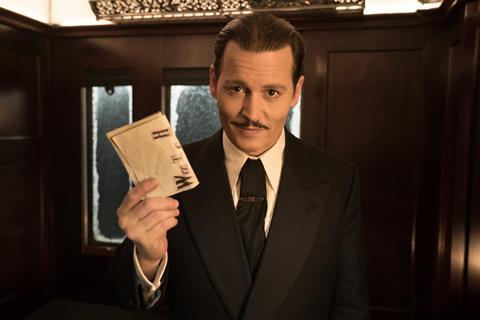 (Note - Dollar conversions are based on today's rates)
UK TOP FIVE
| Ranking | Film/Distributor | Weekend gross | Running total |
| --- | --- | --- | --- |
| 1 | Murder On The Orient Express (Fox) | $6.5m (£4.9m) | $6.5m (£4.9m) |
| 2 | Thor: Ragnarok (Disney) | $6m (£4.6m) | $27.3m (£20.8m) |
| 3 | A Bad Moms Christmas (Entertainment) | $2.34m (£1.78m) | $2.34m (£1.78m) |
| 4 | Jigsaw (Lionsgate) | $986,000 (£752,000) | $4.8m (£3.68m) |
| 5 | The Death Of Stalin (eOne) | $681,000 (£519,212) | $4.7m (£3.6m) |
FOX
Despite generally middling reviews, Murder On The Orient Express arrived top of the UK box office on debut.
Fox's adaptation of the Agatha Christie classic posted a healthy non-final UK bow of $6.5m (£4.9m) from its 624 sites, delivering Sir Kenneth Branagh's best Fri-Sun tally as director, ahead of Cinderella's $5m (£3.8m).
Expect a long run for Murder On The Orient Express in the UK, given its crossover appeal and it will also pull in decent midweek returns, especially if it manages to capture the 'Grey Pound' audience that benefited the likes of The Best Exotic Marigold Hotel.
Cinderella is currently Branagh's best-ever result at the UK box office with $27.9m (£21.28m).
Also for Fox, Kingsman: The Golden Circle shot to an extra $233,000 (£177,964) for $32.3m (£24.6m) to date, while Captain Underpants and Goodbye Christopher Robin stand at $11m (£8.4m) and $3.66m (£2.79m), respectively.
DISNEY
Thor: Ragnarok might have been dethroned, but can be happy with a respectable 36% drop (excluding previews) on its way to a $6m (£4.6m) second weekend.
Disney's latest Marvel offering has now fought to $27.3m (£20.8m) in the UK, making it the biggest Thor outing to date, ahead of Thor: The Dark World's $26.4m (£20.13m).
In terms of overall Marvel films, Thor: Ragnarok is already the tenth highest-grossing film and will soon overtake Iron Man 2 ($27.8m/£21.18m) and Doctor Strange ($30.4m/£23.2m).
ENTERTAINMENT
A Bad Moms Christmas capitalised on the blockbuster-heavy market to chart in third on its UK bow.
Entertainment's comedy sequel scored a $2.34m (£1.78m) debut from its 475 sites, including $668,000 (£509,089) in previews, topping the $1.98m (£1.51m) opening of Bad Moms from 463 sites, including $333,000 (£253,739) in previews.
Bad Moms went on to take $11.3m (£8.6m) in the UK and A Bad Moms Christmas will look to avoid the usual fast-burn nature of sequels to challenge that.
LIONSGATE
Jigsaw fell 50% (excluding previews) as it sliced to a $986,000 (£752,000) second weekend, dropping to fourth.
Lionsgate's horror sequel is now up to $4.8m (£3.68m) after 11 days in play and while it won't manage to become the biggest of the series, it will hope to overtake Saw VI's $7.1m (£5.4m) result.
Also for Lionsgate, My Little Pony dropped 38% with a $508,000 (£387,273) third weekend for $4.2m (£3.23m) to date, while Irish hit Maze has now reached $990,000 (£754,786).
EONE
The Death Of Stalin rounded off this week's top five as it fell 36% with a $681,000 (£519,212) third weekend after a slight expansion to 383 sites.
eOne's critically acclaimed comedy is now to up a strong $4.7m (£3.6m) after 17 days in play, and is still delivering steady midweek business despite increased competition.
Also for eOne, the 40th anniversary re-release of Sorcerer grossed $6,000 (£4,567) from its eight sites, including $2,200 (£1,642) in previews.
WARNER BROS
Falling 47% in its fourth weekend, Warner Bros' The Lego Ninjago Movie assembled an extra $617,000 (£470,000) for $11.9m (£9.07m) to date.
Also for Warner Bros, Geostorm fell a steep 60% with a $341,000 (£260,000) third weekend for $5.2m (£3.99m) so far.
SONY
In its fifth weekend, Sony's Blade Runner 2049 added $453,000 (£345,000) for a decent $23.9m (£18.2m) to date.
Also for Sony, Call Me By Your Name fell 40% with a $184,000 (£140,000) second weekend for $745,000 (£568,000) after ten days in play.
CURZON ARTIFICIAL EYE
The Killing Of A Sacred Deer has achieved director Yorgos Lanthimos' best-ever UK debut.
Curzon Artificial Eye's dark thriller enjoyed a non-final $340,000 (£259,448) bow, including previews, from its 100 sites, marking a site average of $3,403 (£2,594) and topping The Lobster's $301,000 (£229,619) from 75 sites, including previews.
The Lobster went on to take $2m (£1.5m) in the UK after an excellent run, something The Killing Of A Sacred Deer will hope to replicate.
UNIVERSAL
Falling 61% in its third weekend, Universal's Happy Death Day sliced to a further $223,000 (£170,278) for $3.5m (£2.68m) to date.
Also for Universal, Conor McGregor: Notorious had a one-day event release last Wednesday (November 1) and was on general release this weekend, taking an overall $331,000 (£252,279) so far.
Despicable Me 3, Victoria And Abdul and The Snowman stand at $62.5m (£47.63m), $12.8m (£9.79m) and $4.3m (£3.26m), respectively.
STX INTERNATIONAL
In its second weekend, STX International's Breathe dropped a hefty 65% (excluding previews) with $223,000 (£169,937) for $1.67m (£1.28m) to date.
PICTUREHOUSE ENTERTAINMENT
In its fourth weekend, Picturehouse Entertainment's The Party added $53,000 (£40,102) for $1.2m (£912,279) to date.
THUNDERBIRD RELEASING
From its seven sites through Thunderbird Releasing, Thelma recorded a UK bow of $25,000 (£18,991), including previews, with $3,500 (£2,660) taken over the weekend.
BFI DISTRIBUTION
The BFI's re-release of The Silence Of The Lambs grossed $11,000 (£8,383) from its two sites (BFI Southbank and Eye Galway), including a sold-out screening that featured a Q&A with Jodie Foster on Friday (November 3) at the BFI Southbank.
MUNRO FILMS
From its 14 sites playing mainly single shows through Munro Films, Ferrari: Race To Immortality posted a UK debut of $3,400 (£2,622).
UPCOMING RELEASES
This week sees saturation releases for Studiocanal's Paddington 2 and Lionsgate's Only The Brave.
Altitude's The Florida Project and Sony's Professor Marston And The Wonder Women both receive wide releases, while Lionsgate's The Man With The Iron Heart and Park Circus's Predator re-release are among the films receiving a limited release.