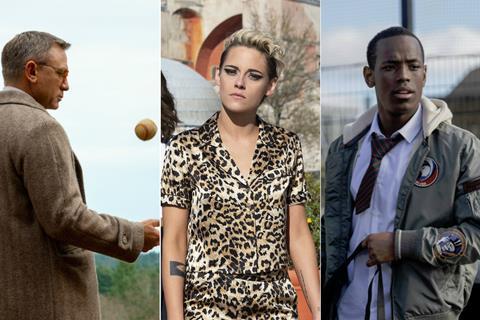 Rian Johnson's ensemble whodunnit Knives Out and Elizabeth Banks' action reboot Charlie's Angels lead the openers at the UK box office this weekend, as Rapman's Blue Story heads into its second weekend following a controversial week.
Entering cinemas as Lionsgate's widest-ever UK release in 637 locations, Knives Out is Johnson's fifth feature, and first since 2017 blockbuster Star Wars: Episode VIII – The Last Jedi. It sees a detective investigate the death of a patriarch of an eccentric, combative family. A stellar cast includes Daniel Craig, Ana de Armas, Chris Evans, Toni Collette, Jamie Lee Curtis and Christopher Plummer among others.
Johnson's Star Wars entry is the sixth highest-grossing film of all time in the UK, with £82.7m. That represents comfortably his biggest gross. His other work includes 2012's Looper (opened: £2.4m, closed: £10.2m), 2010's The Brothers Bloom (opened: £38,861, closed: £114,981), and 2006's Brick (opened: £142,878, closed: £708,468).
Whodunnit films can prove popular at the box office, especially when led by a multitude of stars each doing a brief turn. Kenneth Branagh's Murder On The Orient Express grossed £24.2m from a £5m start in November 2017; while Robert Altman's Gosford Park took £12.3m after opening with £833,119.
Also opening is Charlie's Angels through Sony. The new reboot of the 1976 US TV series features Kristen Stewart, Ella Balinska, and Screen Star of Tomorrow 2015 Naomi Scott as the private detectives looking to protect the world from a dangerous technology.
The film performed poorly on opening in the US, on November 15. It grossed $8.4m (£6.5m) on its first weekend against a $48m (£37.2m) budget and was at $15m (£11.6m) as of Tuesday 26.
A previous big-screen version of the Angels performed well in the UK. 2000's Charlie's Angels opened to £3.2m and ended on £12.9m, while 2003 sequel Charlie's Angels: Full Throttle started with £3.3m and closed on £12.4m.
Banks, who made her name as an actor with roles in the Spider-Man and Hunger Games franchises, is directing her second feature, after 2015's Pitch Perfect 2, which started with £5m and grossed £17.4m total. She was also a producer on the first and third titles in the franchise, which grossed £6.5m and £15.3m respectively.

Stewart's breakthrough was in the Twilight series, with 2012's final title The Twilight Saga: Breaking Dawn – Part 2 setting the peak of £35.9m. Scott played Jasmine in Disney's Aladdin earlier this year (opened £7.1m, closed £36.2m); while the film is only a second feature role for English actor Balinska.
Blue Story bounce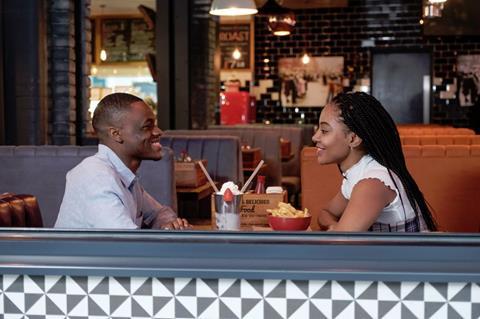 One of the intriguing aspects of this weekend's box office will be the second-weekend performance of Rapman's Blue Story. Vue removed the film from its 91 UK & Ireland venues on Sunday morning, citing 25 incidents at screenings of the film in its first two days in cinemas. Showcase followed suit later in the day before reinstating the film 24 hours later; and Vue put it back on screens on Thursday, November 28 after a substantial backlash to its decision.
Amongst this controversy, the film performed very well on its first weekend, taking £1.3m from just 311 sites for third place in the weekend box office. It has held that position throughout the week and has now passed £2m. It should build on the extensive publicity and achieve a strong second-weekend hold.
UK urban films have previously struggled for staying power in cinemas. Adulthood, the second feature in a trilogy from Screen Star of Tomorrow 2004 Noel Clarke, opened to a decent £1.2m, but fell 46% on its second weekend with £649,162, and ended on £3.3m. Third title Brotherhood began with £1.6m in 2016, then fell 54% on its second session with £465,031 and ended on £3.7m.
However Blue Story opened above both of those, and its midweek performance suggests it could buck the trend.
Indie openers
Despite the second weekend of Frozen II eating up many screens, there are still a number of indie titles opening this weekend.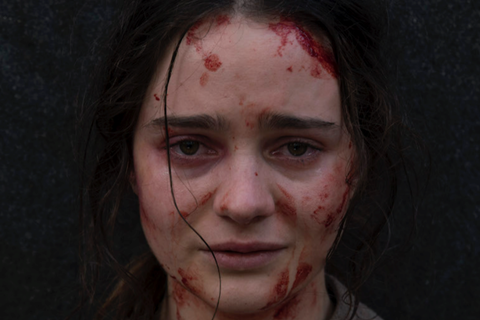 The Nightingale, the second feature from The Babadook director Jennifer Kent, opens through Vertigo Releasing, after a Venice 2018 premiere. The Babadook began with £347,512 in October 2014, going on to a decent £1.3m.
It stars Screen Stars of Tomorrow Aisling Franciosi (2014) and Sam Claflin (2010) in the story of an Irish convict woman in 1825 Australia chasing a British officer through Tasmania in search of revenge.
Parkland Entertainment has John Chester's documentary The Biggest Little Farm, in which he records his and his wife Molly's efforts to develop a sustainable farm on 200 acres outside of Los Angeles. It debuted at Telluride 2018 and has since played festivals including Toronto, AFI Fest, and Thessaloniki.
National Amusements is opening Hiroyuki Imaishi's anime title Promare, about a futuristic firefighting mecha service which is created to protect the world.
After recent releases for its awards contenders Marriage Story, I Lost My Body and The Irishman, Netflix has two more titles in select venues – Mati Diop's Senegalese Oscar submission Atlantics, and Fernando Meirelles' The Two Popes starring Jonathan Pryce and Anthony Hopkins. The films debuted at Cannes and Telluride respectively, with Diop becoming the first black female director in Competition at the former.
Dartmouth Films is releasing John Pilger's documentary The Dirty War On The National Health Service. It will look to capitalise on pre-general election political engagement.
Modern Films has Kim Longinotto's latest documentary Shooting The Mafia, as well as the event release of The CBeebies Christmas Show 2019 on Saturday 30.
Another doc, Zed Nelson's The Street about Hoxton Street in east London, is released through Verve Pictures. The film is up for the Discovery award at the British Independent Film Awards on Sunday.
Further releases include Bollywood action pic Commando 3 through RFT Films; Polish title Proceder through Magnet Films; rep title Eyes Wide Shut and Kevin Smith's Jay And Silent Bob Reboot through Park Circus; and Karen Gillan's directorial debut The Party's Just Beginning through Blue Finch Films on Sunday, December 1.
Aside from Frozen II and Blue Story, key holdovers are Universal's Last Christmas, Disney's Le Mans '66, and STX's 21 Bridges.