After a bumper weekend at the UK box office last week, which saw three titles open to more than £4m, this week sees Universal's awards contender First Man enter the chart.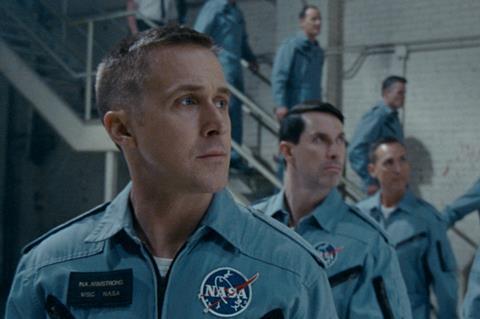 Starring Ryan Gosling as the titular 'first man' – the first man on the moon, Neil Armstrong – the film chronicles NASA's attempts to pip the Soviet Union in the space race. It's the next feature from director Damien Chazelle following the awards smash La La Land, and is likely to again be a contender in this year's race.
La La Land opened to £6.6m in the UK and topped out at £30.4m, while Chazelle's debut feature Whiplash opened to £574,000 and closed on £2.3m.
Otherwise, it's a relatively sparse week for new openers. Warner Bros will be looking for animation Smallfoot to tap into the ever-eager family market, which has seen strong returns this year for the likes of The Incredibles 2, Hotel Transylvania 3, Sherlock Gnomes and Coco.
Curzon Artificial Eye is servicing the release of 22 July on behalf of Netflix. The film marks the first of what looks set to be an increased theatrical push from the US streaming giant, with titles including Alfonso Cuaron's Roma and the Coen Brothers' The Ballad Of Buster Scruggs also on the near horizon.
For 22 July, the film will play in 13 cinemas this weekend, all Curzon sites, enough to qualify it for a run at the Baftas this coming awards season.
Curzon previously partnered with Netflix on the UK releases of Beasts Of No Nation and Mudbound.
Elsewhere, 20th Century Fox has Bad Times At The El Royale, Drew Goddard's mystery thriller with an all-star cast featuring Dakota Johnson, Chris Hemsworth, and Jon Hamm. Park Circus is releasing Mandy, an action-horror film starring Nicolas Cage. Phoenix Productions has Polish-language comedy-drama Kler (Clergy), which is opening in a wide 240 sites this weekend.
Holdovers are likely to dominate the top five this week. Sony Pictures' Venom landed top last week with a £5.6m weekend and £8m opening including previews. Universal's Johnny English Strikes Again and Warner's A Star Is Born battled it out for second place and will be looking for a strong second weekend. The latter may have been hampered by the fact that it wasn't booked by any Vue Cinemas in its opening week, apparently due to a dispute over terms, though that has now been resolved and the film will be playing at Vue this weekend.