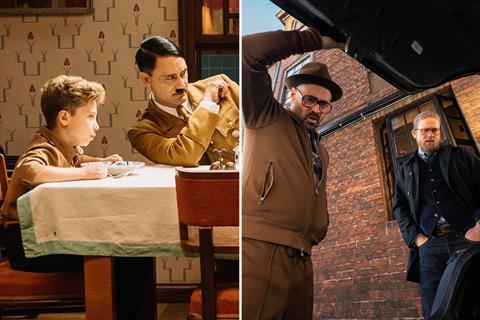 Taika Waititi's Jojo Rabbit and Guy Ritchie's The Gentlemen are among the new openers in what could be a low-key weekend at the UK box office. Both opened on New Year's Day.
Disney's Nazi Germany-set comedy Jojo Rabbit sees Waititi play Adolf Hitler, the imaginary friend of a young member of the Hitler youth (Roman Griffin Davis).
An awards contender after winning the prestigious audience award at Toronto, Jojo has two nominations ahead of this weekend's Golden Globes - for best motion picture - musical or comedy and best actor – musical and comedy for Davis.
The film is up to $21.1m in the US following its limited release in October. Waititi's highest-grossing film in the UK is his 2017 Marvel title Thor: Ragnarok (£7.2m), while his previous indie efforts What We Do in The Shadows (2014) and Hunt For The Wilderpeople (2016) opened with £64,916 and £152,885 respectively.
Guy Ritchie is making his return to the gangster genre with The Gentlemen starring Matthew McConaughey, Charlie Hunnam, Henry Golding and Hugh Grant, via Entertainment Film Distributors. It follows several big US studio projects for the director including last year's Aladdin (opened £7.1m) and attempted franchise-starter King Arthur: Legend of the Sword (£1.9m).
The Gentleman passed £840,000 through Jan 1-2, and will be aiming to match the totals of Ritchie's previous crime hits Lock Stock And Two Smoking Barrels (which made £18m worldwide in 1998) and Snatch (£53m worldwide in 2000).
Further new titles
Another significant new opener is Andre Rieu: 70 Years Young, Piece Of Magic Entertainment's latest event cinema release featuring the Dutch violinist running 4-5 Jan. His previous New Year's concert made a huge £1.8m across two days.
Also out this weekend are Signature's crime thriller In The Line Of Duty directed by Steven C. Miller and starring Aaron Eckhart. Miller's previous films include action films Escape Plan 2: Hades (2018) with Sylvester Stallone and Arsenal (2017) starring Nicolas Cage.
Curzon is releasing Mikhaël Hers' Amanda, about a young man must care for his niece after his sister is killed in a terrorist attack. The title debuted in the Orizzonti strand at Venice in 2018, and went on gross over $2m during nine weeks in its native France.
Phoenix has Polish crime comedy Futro Z Misia, which sees codirector Michal Milowicz make his directorial debut alongside Kacper Anuszewski.
Finally, BFI Distribution is releasing a 4K restoration of Federico Fellini's classic La Dolce Vita as part of their Fellini season.
Holdovers
The new openers will face significant competition from a variety of holdovers this weekend. These include Star Wars: The Rise Of Skywalker, which has just passed £40m and is aiming for its third week atop the UK box office; Greta Gerwig's Little Women, which made an impressive £3.6m debut last week; and family sequel Jumanji: The New Level, up to £21.9m on its fourth week.