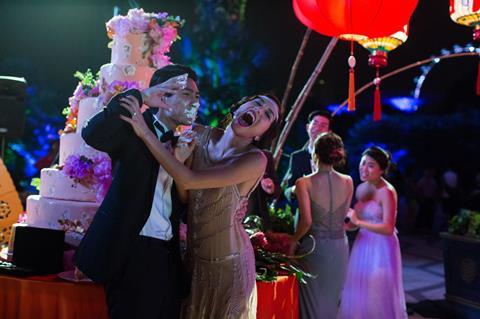 US comedy Crazy Rich Asians has already grossed more than $165m globally to become one of the biggest cinema stories of the year since opening in North America in mid-August.
The film's UK launch today will see distributor Warner Bros hoping it can replicate even a small amount of the film's US success, where it has climbed to $139m after landing top of the chart with an opening weekend of $26m.
Starring Michelle Yeoh, Lisa Lu, Gemma Chan, Awkwafina, Constance Wu, and Henry Golding, the romantic comedy is based on the 2013 novel of the same name and follows a native New Yorker who travels to Singapore to meet her boyfriend's family.
While many have heralded Crazy Rich Asians for tapping into an Asian cinema audience that has been largely underserved by English-language product – the film is the first Hollywood title to feature an all-Asian cast for 25 years - a backlash has also emerged against the film's spotlighting of the super-rich.
Also opening is 20th Century Fox's The Predator, Shane Black's reboot of the franchise in which he originally starred back in 1987. The film has a cast led by Boyd Holbrook and Olivia Munn and recently premiered in Toronto's Midnight Madness section.
New in the arthouse space is Chloe Zhao's The Rider, which Altitude is releasing into an initial 44 sites. Telling the true story of a young cowboy in the US who suffers a near-fatal head injury, and starring the actual cowboy (playing a fictionalised version of himself) alongside members of his real family, the film has ridden a wave of critical praise since its premiere in Cannes Directors' Fortnight last year.
Whether that buzz will convert to audiences will be seen this weekend, but a series of Q&A-accompanied previews have already grossed £11,665 to date.
Studiocanal is releasing King Of Thieves, James Marsh's take on the true-life Hatton Garden burglary, which saw a group of four elderly men steal some £200m worth of valuables from an underground vault in London. Michael Caine, Michael Gambon, Tom Courtenay, Jim Broadbent and Ray Winstone star in the film which is produced by Working Title.
Sony is releasing Director X's crime thriller SuperFly, which features a cast including Trevor Jackson, Jason Mitchell and Michael Kenneth Williams in the story of a successful young drug dealer who sets his mind to retiring after one last big job. The film has grossed $20.1m to date in the US.
Elsewhere, Eros International is putting out Hindi romance Manmarziyaan, while Peccadillo has French drama Reinventing Marvin following its premiere in Venice last year.
Key holdovers include Warner's horror The Nun, which comfortably topped the chart last week, Disney's Christopher Robin, Universal's Mamma Mia! Here We Go Again, STXinternational's American Animals, Curzon's Cold War, and Vertigo's The Miseducation of Cameron Post.