"We are in unknown territory" but "everyone is pulling in the same direction", suggested the speakers.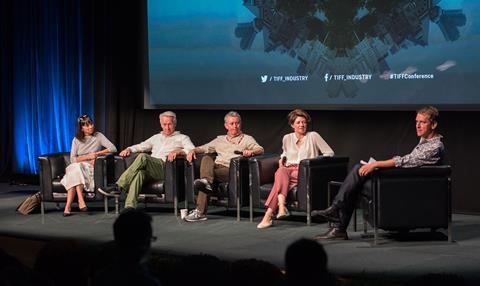 Opening this year's Industry Conference at Toronto International Film Festival (Sept 8-18), a panel of UK experts moved to calm fears over the British public's decision to leave the European union. BFI head of international Isabel Davis, Creative Scotland senior executive Robbie Allen, the British Film Commission's evp, US productions, Kattie Kotok, and producer Paul Webster of Shoebox Films were all present to disclose their opinions on the looming spectre of Brexit.
Screen International US editor Jeremy Kay, moderating the panel, set the scene by stating that "we are in unknown territory": "With Article 50 yet to be triggered, we are still at least two to three years away from leaving the EU", noted Kay.
Davies revealed that the BFI has put together a bespoke taskforce featuring key figures from the film, television and videogames sectors. "Everyone is pulling in the same direction, coalescing over the same few issues," she stated, adding that it was "going to take a long time to untangle, it's a complicated process".
"Stability is very important to the creative industries, it's a volatile market," said Allen, before arguing that "the EU is a political and financial institution, not a cultural one," suggesting that focus could be placed elsewhere.
Davies backed this up by saying that continued membership of separate initiative Creative Europe was "an absolute priority", as the body currently provides support to distributors and producers in the UK. "We've got guaranteed membership for the length of negotiations," she noted.
The panel were keen to point out that leaving the EU does not mean leaving Europe. "We want to remain as close to Europe as possible," said Davies. While long-term consequences remain unclear, Kotok believes that people will continue to use the UK tax credit - which is enshrined in UK law and will remain unaffected – at the same rate, while Webster was quick to emphasise that as a producer, business would continue as usual. "At the moment I'm hard-pressed to think what will be different on my slate."
LA-based Kotok is in constant contact with US partners and has heard reassuring messages of continuing investment in the UK, which the US regards as a strong and established talent pool and infrastructure. Allen stressed that while the pound has dropped, the film industry deals with fluctuations every day and will find ways to achieve their goals.