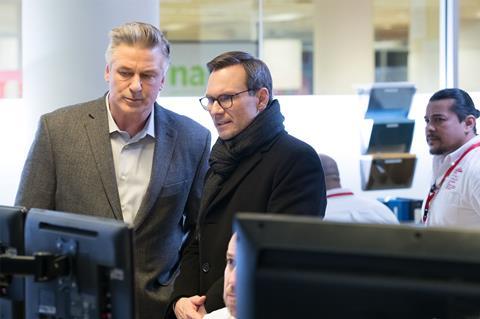 After announcing its pick-up of Trautmann at the start of the week, new distribution outfit Parkland Entertainment has acquired Emilio Estevez's The Public for the UK.
The film, which is being sold at AFM by the Capstone Group, has an ensemble cast that includes Estevez, Alec Baldwin, Jena Malone, Taylor Schilling, Christian Slater, Che "Rhymefest" Smith, Gabrielle Union, Jacob Vargas, Michael K Williams and Jeffrey Wright. The deal was negotiated by Tom Stewart, Acquisitions Director of Parkland Entertainment and Pia Patatian, VP, Sales at Capstone Group.
In The Public, which premiered at Toronto, a sit-in by patrons at a public library escalates into a police standoff and a media sideshow. Estevez's drama explores issues surrounding homelessness, mental health and community. Former Brat Pack star Estevez's previous directing credits include Bobby (2006) and The Way (2011).
Parkland Entertainment, the new UK distribution arm of Parkland Pictures, aims to release six to eight films a year. "We're thrilled to be working with Emilio on this wonderful project and to be collaborating with the team at Capstone. It's a remarkable film that I'm sure will delight our audiences in the UK and Ireland," Tom Stewart told ScreenDaily.
Established in 2017, Capstone is headed by sales and distribution veteran Christian Mercuri. Prior to forming Capstone Group, Mercuri helped finance and distribute projects such as The Wolf Of Wall Street, The Expendables, Dumb And Dumber To, and Out Of The Furnace.