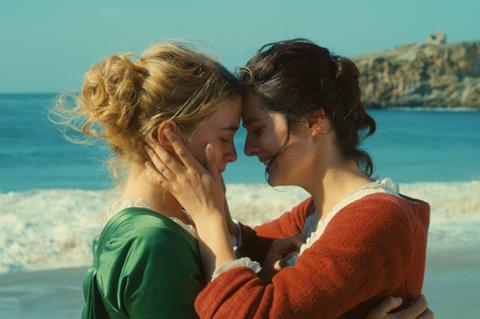 French cinema promotional body Unifrance has released a detailed report into the immediate impact of the coronavirus pandemic on the release of French films around the world, drawing on data from its weekly box office reports.
"Normally, in any given week there will be around 250 separate release campaigns going on for French films in some shape or form in some 50 territories around the world," said Unifrance deputy managing director Gilles Renouard, who also oversees the body's box office research.
"Last week, only four of the territories we monitor remained open: South Africa, Korea, Taiwan and Sweden."
Unifrance's last proper weekly box office chart dates back to March 13-19, as countries were locking down and cinemas were going dark worldwide.
That week, 80 French majority and minority productions were still on release in 30 territories worldwide, for a total of 157 separate release campaigns. They generated some 162,000 entries for a rough gross of €827,000 ($938,671).
French minority co-production Pinocchio took the top slot in the chart, mainly thanks to a release by Russian distributor Volga in 357 theatres, which generated 49,000 admissions for a rough box office of €142,000 ($161,000).
By March 19, the film had sold 85,105 tickets internationally for a total box office of €302,920 ($342,779) in two international territories.
Céline Sciamma's Portrait Of A Lady On Fire lay in second place. It had sold 1,359,599 tickets internationally by March 19 for a rough international box office of €10m ($11m). Over the week of March 13-19, it drew 27,481 spectators internationally, generating a €224,667 ($255,000) gross.
Roman Polanski's An Officer And A Spy came in third. It has also drawn some 1.3m spectators although it was not acquired for the key territories of UK or the US.
The top 10 also included minority French co-production, the Cannes Jury Prize winner Bacurau; romantic drama Who You Think I Am, starring Juliette Binoche; mainstream comedy Docteur?, nuclear submarine thriller The Wolf's Call, Hirokazu Kore-Eda's French-language The Truth, starring Catherine Deneuve, as well as publishing world thriller The Translators.
Portrait could have gone further theatrically
Renouard noted Portrait of A Lady On Fire and An Officer And A Spy had been nearing the end of their theatrical careers in key territories when the coronavirus pandemic struck
"But it's still a shame, particularly for Portrait Of A Lady On Fire, which could have achieved more theatrically in the US and the UK," he said. "In the US, it was on track to gross at least $5m, and now it's stopped just under $4m."
US distributor Neon, which acquired the US rights to the film during Cannes with streaming platform Hulu, was forced to cut short the film's theatrical release which began with a February 14, Valentine launch. Hulu then started streaming the film slightly earlier than planned on March 27.
"On the bright side, the film is often cited in the US press as one of the films to watch in this period of lockdown and it continues to have a strong existence in spite of everything," noted Renouard.
In the UK, Portrait Of A Lady had been performing strongly in theatres for Curzon, grossing £557,000 ($653,000) at the UK box office, before theatres closed their doors. It has since become one of the most successful titles on Curzon Home Cinema (CHC).
"There again, its theatrical career came to a brutal end but it's at least doing well online," said Renouard. "In the end it came out in 35 territories. Its remaining big territories were Japan and Mexico. We'll see what happens there."
An Officer And A Spy had been released in 20 territories ahead of the global lockdown and had another dozen territories to go, mainly in Scandinavia and Eastern Europe.
"I think it will be less impacted because it had already come out in key territories like Italy and Spain, where it did well," said Renouard.
Distributors hold theatrical line
A number of freshly launched or upcoming French films face a more complex future.
"How To Be A Good Wife is one of the hardest-hit films," said Renouard, referring to Martin Provost's comedy drama starring Juliette Binoche as the headmistress of an all-girls housekeeping school in the late 1960s, just as the Women's Liberation Movement is taking off.
Memento Films Distribution launched the film in France on 600 screens on March 11, but it closed four days later after the country went into lockdown. Imagine in Belgium and Filmcoopi in Switzerland had also just released the film.
"We expect the film to be re-released in both Belgium and Switzerland," said Renouard. Memento is also planning to re-launch the film in France, where it had drawn some 150,000 spectators before cinemas closed.
He observed that apart from in the UK, few traditional distributors of French cinema appeared to be considering abandoning theatrical releases in favour of online alternatives for now.
"Lots of releases have been cancelled but most distributors appear to be waiting and would rather not release these films online. They're hoping to re-release or re-programme - for the simple reason that digital receipts are smaller than theatrical ones. They need the theatrical releases to recoup their investments," he said. "That's what we're seeing for now but that could change in the future… it remains to be seen how the situation will last."