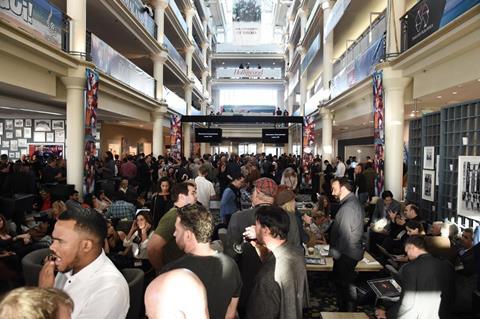 After a generally upbeat start to AFM 2018 with deals poised to break out on the market's most high-profile packages, the widening gulf between the haves and the have-notes remains a talking point.
AGC Studios' dark comedy Breaking News In Yuba County, Voltage Pictures' Jessica Chastain action thriller Eve – both involving director Tate Taylor – Mister Smith's Hilary Swank sci-fi I Am Mother, and Endeavor Content's Dev Patel directorial debut Monkey Man are all sparking business.
FilmNation and CAA's George Miller package Three Thousand Years Of Longing, which at time of writing had reportedly triggered a couple of unconfirmed European deals, and Participant Media's drama Dry Run through Lionsgate International, were also proving popular. A deal was also understood to be close on the grey dollar cheerleader comedy Poms starring Diane Keaton, Jacki Weaver, and Pam Grier.
Patel turned up to promote Monkey Man, while Tate Taylor and Ron Howard flew the flag for the directors, the latter talking up his Luciano Pavarotti documentary that HanWay Films has reportedly licensed in at least two major territories.
Elsewhere familiar concerns persist about survival strategies in today's landscape. Those in the crosshairs include sales agents who do not generate their own content and lack the wherewithal to manage budgets and provide realistic sales estimates, and buyers who cannot afford big-ticket items.
Studios and well capitalised independents can pick and choose whether what they buy launches in theatres or on an OTT platform. Not everybody has the network to do this, however, and the retreat of Netflix and Amazon Studios from the acquisitions arena is making it harder for financiers to recoup on mid-range content.